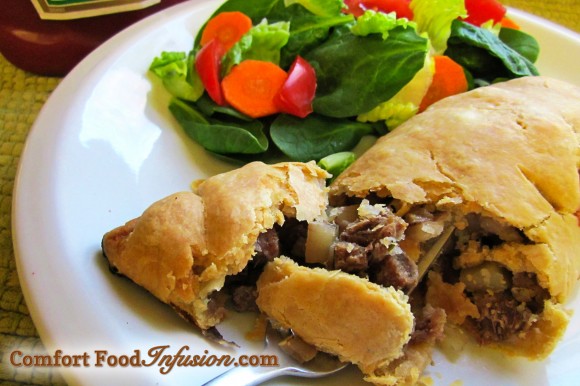 How better to launch my blog, than with a recipe of my all-time favorite comfort food, Cornish Pasties. Growing up, my mother made these on special occasions. My birthday is in the summer, but that never kept me from requesting that she make pasties for my special meal. The hot oven heated up the house something awful, but the aroma that filled the air and the meal that lie ahead was well worth it. This really is a great meal for the cold weather, but don't let it stop you from making it any time of year.
Cornish Pastie history. Pronounced 'PASS-tee', these fabulous individual pies came with the Cornish settlers when they arrived in Wisconsin to mine for lead in the 1830s. The shape and construction of these portable meals proved to be handy in many ways. The original style of assembly created a solid ridge of pastry, hand crimped along the top of the pastie. It was designed so that the miner or traveler could grasp the pastie for eating and then throw the crust away. By doing this, he did not run the risk of germs and contamination from dirty hands. The crusts weren't wasted though, as many miners were believers in ghosts or "knockers" that inhabited the mines, and left these crusts to keep the ghosts content. The Cornish pasties made their way west and became a popular meal during the gold rush in Grass Valley, which is where my mother learned of them and decided to create her own version. The original pastie contained parsnips or carrots in addition to the ingredients my mother and I use. Feel free to add those back in if you wish. I have also seen pastie recipes that contain heavy cream, for the purpose of moistening the pie or adding its own gravy. I prefer the more traditional approach, which is dousing it with ketchup. 😛
Scroll down for a printable version of this recipe. I have included images to aid in the preparation of these perfectly portable pies.
Mixing dough with pastry blender.↓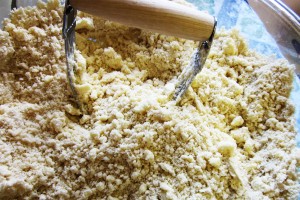 Add wet ingredients to dry, and mix to combine. Do not overwork.
Cover and chill in refrigerator.↓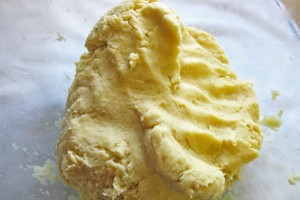 Mix filling ingredients.↓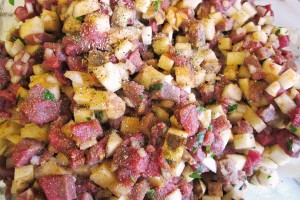 Grab a handful of chilled dough, roll out
on a well floured surface.↓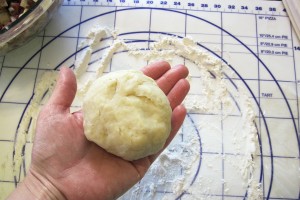 Pile filling in the lower half
of the dough circle.↓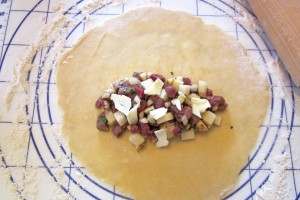 Fold over carefully and press to seal. Cut off excess dough
and add back to unused dough.↓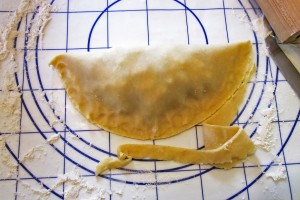 You can crimp the traditional way, rolling into
a thick rope-like ridge.↓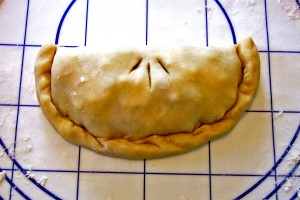 Or, you can simply press firmly
to seal with your fingers.↓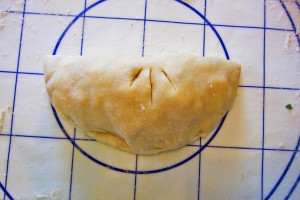 Brush with egg wash and bake
at 350° F for 1 hour.↓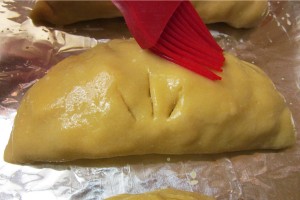 *Remember* These can be made ahead, chilled or frozen before use.
(No need to wrap so well for a 24 hour
spell in the refrigerator).↓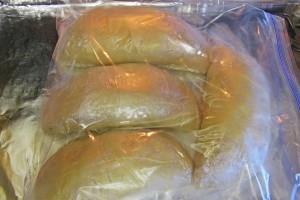 Serve with ketchup. 😉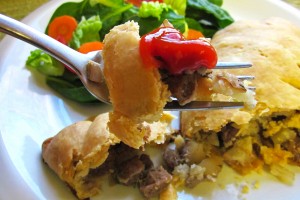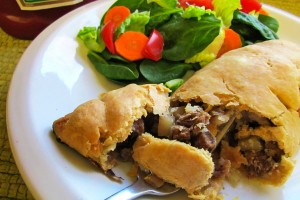 Cornish Pasties
Classic comfort food. An individual pie filled with beef, potatoes and onion, and packaged in a perfect flaky shell. Serving with Heinz Ketchup is a must!
Ingredients
Ingredients for pastry shell ('Fool-Proof Pie Crust' recipe)
4

cups

all purpose flour

1

cup

shortening

1

cup

butter

1

Tbsp.

sugar

1

tsp.

salt

1

Tbsp.

white vinegar

1

egg

1/2

cup

cold water
Ingredients for filling
1 1/2

lbs.

chuck or round steak

cut into 3/4 in. cubes

4

medium potatoes

cut into 3/4 in. cubes

1

yellow onion

diced

2

Tbsp.

chopped

fresh parsley

1/2

tsp.

seasoned salt

e.g. Lawry's

pepper to taste
Ingredients for assembly
a few pats

1/2 tsp. of butter per pastie

1

egg beaten with 1/2 tsp. water
Instructions
Directions for pastry shell (pie crust)
In a large bowl, using a pastry blender, cut together the flour, shortening, butter, sugar and salt, until mostly pea-sized pieces of the shortening and butter remain. In a medium sized bowl, beat together vinegar, egg and water. Pour wet mixture into flour mixture. Mix until just blended, do not overwork. Using your hands, mold dough into a ball, cover with plastic wrap and chill in refrigerator while preparing filling (or at least 20 minutes). NOTE - this recipes makes more pastry than needed for 6-8 pasties. I freeze my leftovers.
Directions for filling and assembly
Combine steak, potatoes, onion, parsley, seasoned salt and pepper in a large bowl and mix together. Moderately flour your workspace and rolling pin. Grab a handful of chilled dough and roll out to about 1/4 inch thickness, and roughly 8" in diameter. Pile filling mixture (roughly 3/4-1 cup) in the lower half of the dough circle. Add a few small pats of butter on top of the filling. Grabbing the top edge of the dough circle, carefully fold over, and towards yourself, and press against bottom edge to seal. Trim the excess dough and add it back to the ball of unused dough. You can chose to roll the edge into a thick rope-like closure, or simply crimp with your fingers or a fork to seal. Cut a small design or someone's initials into the top. Repeat for each pastie.
*Bake
Set oven to 350° F. Lightly spray or line a baking sheet with parchment or tinfoil. Brush each pastie with the egg wash and bake, uncovered at 350° F for 1 hour.
Serve
It has become tradition to serve, hot out of the oven with liberal amounts of Heinz Ketchup. Enjoy!
Notes
*Tip:
You can make these ahead of time. Once pasties have been assembled, they can be placed in the refrigerator for up to 24 hours prior to baking. They can also be wrapped in plastic wrap and placed inside freezer bags for months. Place cold or frozen pasties on prepared baking sheet, brush each pastie with egg wash and bake, uncovered at 350° F for 1 hour.
Adapted from My Dear Mother