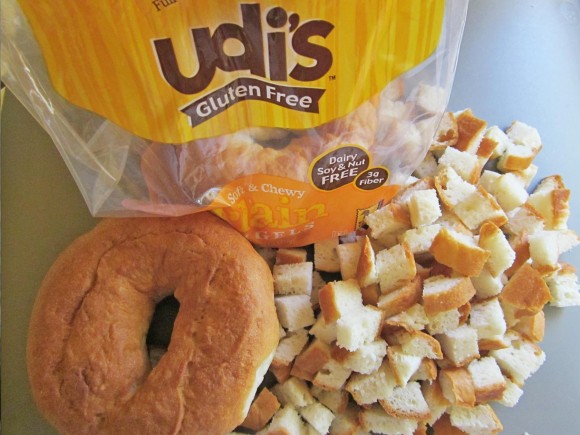 Such an easy recipe. You may never buy prepared croutons again! They can be made from virtually any type of bread, gluten free or regular. The bread does not even have to be stale. Add in herbs or Parmesan cheese if you wish. You should try this with my Thousand Island dressing! Yum! 🙂
Simply spread small cubes of bread on a baking sheet and bake at 350 for about minutes.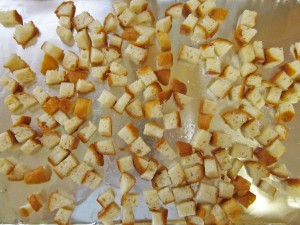 Pairs perfectly with Thousand Island Dressing!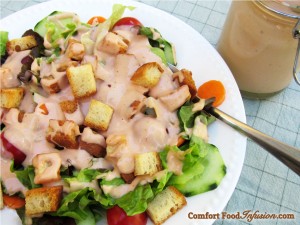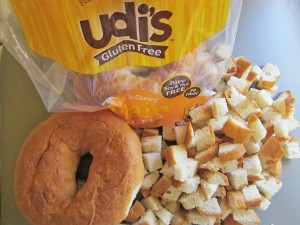 Homemade Croutons
Simple and tasty oven baked croutons
Ingredients
Ingredients
3

cups

diced bread

any type you wish

3

Tbsp.

oil of choice or melted butter

1

tsp.

garlic salt
Optional Ingredients
1/2

tsp.

dried herbs of choice

1

Tbsp.

parmesan cheese
Instructions
Directions
Heat oven to 350°F. Dice bread into cubes. Put the bread cubes in a large mixing bowl, drizzle with melted butter or oil, sprinkle on the garlic salt (and herbs and parmesan if using), and toss to distribute evenly. Spread the cubes in a single layer on a baking sheet lined with tinfoil and bake until golden for 12-18 minutes, turning once or twice with a spatula. Allow to cool before sprinkling on salad. Store in an airtight container at room temperature. (Croutons made with oil will stay fresh longer than those made with butter).