Over the weekend my family visited my Aunt and Uncle's. They have a beautiful garden with tons of vegetables and fruit trees. We were so lucky to be able to bring home bags of fresh, organic produce. I found tasty ways to use all of it. Today's recipe showcases their delectable figs. I grew up with a fig tree in my parent's yard, and I absolutely love to eat them freshly picked, all on their own. I wanted to do something special with these figs though, and naturally a salad was the first thing that came to mind. I thought about one of my all time favorite salads, one that Trader Joe's used to sell, but has discontinued. *wipes tear* It was a mixed green salad with pears, dried cherries, gorgonzola cheese and a champagne vinaigrette (I think those were the ingredients). I also wanted to make this salad heartier… something that would fill me like a meal, so I added quinoa. This delicious salad was born, and just as important, was the creation of this wonderful apple vinaigrette, which I plan to use on many other salads in the future. If you wish to make this salad vegan, simply leave out the cheese.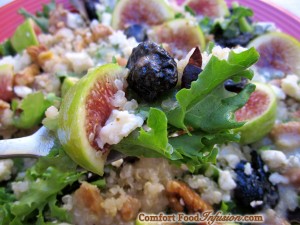 Quinoa Fig Salad with Apple Vinaigrette
Topped with dried cherries, walnuts and gorgonzola cheese (or omit for vegan).
Ingredients
Ingredients for Vinaigrette (makes more than you will need for this salad)
1

apple

peeled, cored and juiced*

1

tsp.

lemon juice

1/3

cup

champagne

or white wine vinegar

1/3

cup

canola oil

2

tsp.

brown sugar

1/2

tsp.

salt

1/4

tsp.

xanthan gum**

1/8

tsp.

onion powder

one pinch

less than 1/8 tsp. cinnamon

pepper

to taste
Ingredients for Salad
3/4

uncooked quinoa

1/2

of 5 oz. bag mixed baby lettuce

6

figs

sliced into 6 wedges each

1/2

cup

dried cherries

1/2

cup

chopped walnuts

1/2

cup

crumbled gorgonzola cheese

non vegan option
Instructions
Prepare Quinoa
Cook quinoa according to package directions. Allow to cool and then place in refrigerator to chill.
Directions for Vinaigrette
Peel, core and juice apple. Combine the juice with the pulp (don't discard it, use it). Add lemon juice to the apple juice/pulp and stir. Pour apple mixture in a container or jar with a tight fitting lid.

Add to the jar, the vinegar, canola oil, brown sugar, salt, xanthan gum, onion powder, cinnamon and pepper. Place lid on tightly and give it a really good shake. Store in refrigerator.
Directions for Salad
In a very large bowl or large serving plate, pour baby lettuce. Top with cold quinoa, sliced figs, dried cherries, walnuts and gorgonzola cheese (if using). Pour vinaigrette over salad (don't use all of it, add it to taste). If you desire you can give it a gentle toss, or just serve un-tossed.
Notes
Notes:
*Instead of juicing an apple, you can use 1/3 cup apple juice or cider.
**Xanthan gum is a thickening agent. You don't have to use it. It is sold in most grocery stores, as it has become a common ingredient in gluten free baking.