Corn season is just around the corner. Come June or July I expect grocery stores will have large pallets of super cheap, super tasty, fresh corn on the cob. As a matter of fact, I am already seeing fresh corn in the produce section. Some fortunate consumers will have access to farm fresh corn at local produce stands and farmer's markets. I expect many of you (speaking for myself also) will feel compelled to buy a bunch and will want some ideas for new ways to prepare it. This shall be my first of, hopefully many ways to use corn in delicious new recipes. Stay tuned for more this summer!
Corn is probably my very favorite vegetable, I have never met a corn dish that I didn't like…. EVER! To usher in the corn season, I have made this simple salad. You can use frozen if it is not corn season, or if you don't feel up to shucking and removing the kernels from a fresh cob. (*Note* One medium ear of corn yields approximately 1/2 cup of kernels). You can use different varieties of vinegar in your version, or even different herbs. I think basil, corn and tomatoes are a perfect trio, and even though I like the flavor of most vinegars, I don't want one that will overpower this salad. Of course you can make this recipe any time of year, but it's great for the warm weather. It is a perfect side dish for a barbeque meal, picnic, potluck, or while camping. And, because it does not contain mayonnaise or cream of any kind, you won't have to worry about leaving it in the sun or heat. Super tasty, easy, versatile, and…. comforting. 🙂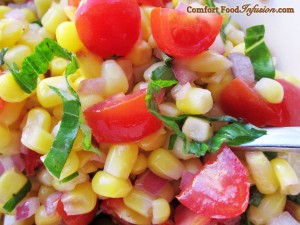 Corn and Tomato Salad
A simple side dish, perfect for summer, barbeques, potluck and camping. Corn, tomato, basil and vinegar combine for a fresh and delicious salad.
Ingredients
Ingredients
4

cups

yellow or white corn *

about 7-8 ears

8

oz.

cherry tomatoes

halved or quartered (or 1-2 large tomatoes, chopped)

1/3

cup

red onion

diced

1/4

cup

fresh basil

sliced in thin ribbons

2

Tbsp.

red wine vinegar

2

Tbsp.

olive oil

1/2

tsp.

salt

or to taste

1/4

tsp.

pepper

or to taste
Instructions
Directions
If using frozen corn, thaw to room temperature.

If using fresh corn on the cob, cook corn with your preferred method (steam, boil or microwave). Allow ears to cool, and slice the corn off the cob, carefully, with a sharp knife.

Place corn in a medium size serving bowl. Add to the corn, the chopped tomatoes, diced red onion, sliced basil, vinegar, olive oil, salt and pepper. Stir gently to combine.

For best flavor, let salad marinate for at least 4 hours in refrigerator.

Serve cold or at room temperature.
Notes
One medium ear of corn yields approximately 1/2 cup of corn kernels.