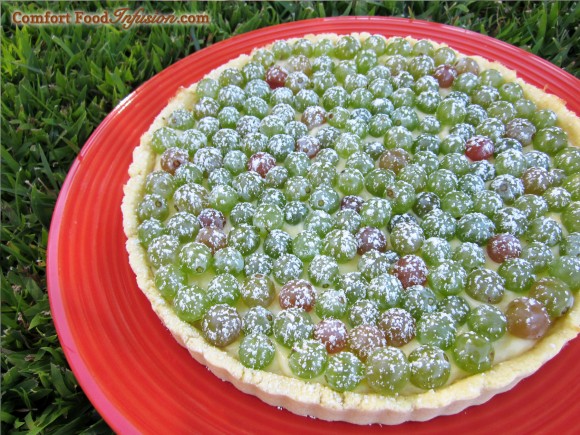 A friend of mine brought some garden fresh grapes to a school meeting the other day. I hadn't had vine fresh grapes since I was a kid and they grew along our neighbors fence. They tasted amazing. As I ate them I knew that I wanted to do something special with them. In the back of my mind, I was also thinking about a bag of coconut flour that needed to be used. I have done very little baking in this summer heat. The only thing that needs baking is the tart crust, and it goes very fast… not only the baking, but the prep as well. It couldn't be easier. I was pleased by the simple prep for the custard as well. Even though I am certainly not dairy free (I just can't be… I love milk waaayyy too much), I decided to make it dairy free just to see how it would turn out. It was absolutely fabulous! No one would never know that there was coconut milk in place of dairy. When you make this, any fresh fruit would top it beautifully. Leave a comment and tell me how you made yours! Don't be intimidated by all the prep pictures, this is very simple and goes together pretty fast…
Combine coconut flour, oil, eggs, sugar and salt.↓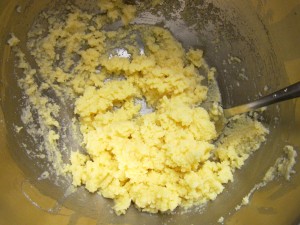 Press coconut dough into a tart pan.↓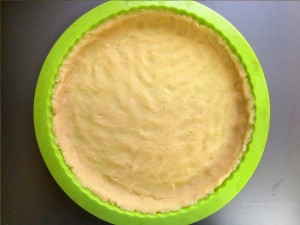 Bake crust in 350° oven for about 10-12 minutes, or until edges just begin to turn light brown.
Set aside to cool.↓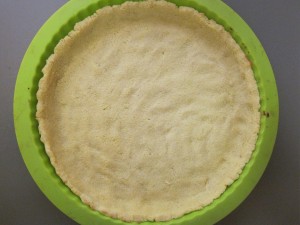 In a medium bowl, beat egg yolks and sugar until thick and light.
Next, mix in rice (or regular) flour and cornstarch.↓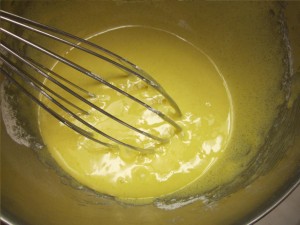 In a medium saucepan, bring coconut (or regular) milk just to a boil,
whisking constantly.↓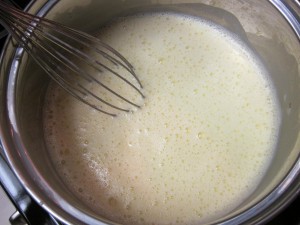 Remove milk from heat, and very, very slowly, pour the milk into egg mixture, while whisking constantly. Pour this mixture back into saucepan and bring to a boil, whisking constantly to prevent scorching, until it thickens a bit, 4 to 5 minutes. Stir in vanilla.↓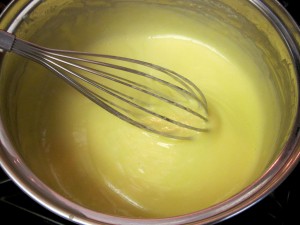 Once thickened, remove to a bowl, cover with saran wrap (to prevent a film from forming) and set aside to cool to room temperature.↓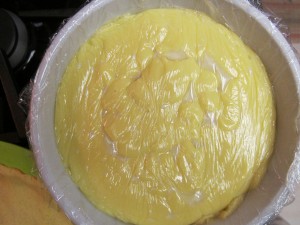 Once crust and custard are cooled to room temperature, fill crust with custard.↓ Top with any fruit you wish and sprinkle with a little powdered sugar if desired.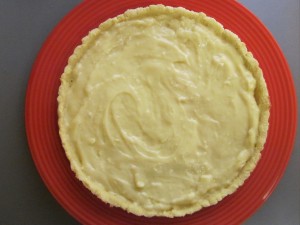 Fresh Fruit Tart
Top this simple and delicious tart with any fresh fruit of choice. Crust uses gluten free coconut flour. Custard can be made with dairy or coconut milk.
Ingredients
Ingredients for Tart Crust
2

Tbsp.

oil

canola, olive or coconut

1

Tbsp.

sugar

2

large eggs

1/3

+ 1 Tbsp. coconut flour

1/8

tsp.

salt
Ingredients for Custard Filling
3

egg yolks

1/4

cup

sugar

1

Tbsp.

rice flour

or wheat flour

1

Tbsp.

cornstarch

1

cup

milk

I used coconut

1/4

tsp.

vanilla extract
Ingredients for Fruit Topping
approx. 2 cups sliced fresh fruit of choice

such as: berries, grapes, figs, etc.

powdered sugar

for sprinkling
Instructions
Directions for Tart Crust
Preheat oven to 350°F.

In a medium bowl, combine all crust ingredients, and stir with a fork until well mixed.

Using fingers, press the dough mixture into a tart or pie pan that has been lightly sprayed with non-stick spray.

Bake for 10-12 minutes or until crust just begins to turn a very light brown. Set aside to cool to room temperature.
Directions for Custard
In a medium bowl, beat egg yolks and sugar until slightly thickened. Beat in flour and cornstarch.

In a saucepan, bring milk just to a boil, whisking constantly.

*Very, very slowly, add heated milk to egg mixture, whisking constantly.

Return mixture to saucepan. Bring to a boil, whisking constantly to prevent scorching, until mixture is thickened, about 5 minutes. Stir in vanilla.

Pour mixture into a bowl, and cover custard surface directly with saran wrap, to prevent a film from forming on top. Cool to room temperature (place in refrigerator to speed it up a bit).
Directions for Assembly
Once crust and custard are cooled, carefully remove crust from pan and set on a serving plate. Spread custard into tart crust. Top custard with any sliced fresh fruit of choice. Sprinkle with powdered sugar and serve.
Notes
*Adding hot liquids to raw eggs is called tempering. If you add hot liquids too quickly, or in large amounts, you will scramble the eggs. It is very important to add the hot liquid very slowly, (a very slow stream) and also mix constantly while combining. It is helpful to have a second person available to slowly pour the liquid... or if you're even slightly ambidextrous, each hand can perform it's task.