How many of you like Japanese food? I love all types of Japanese food: sushi, tempura, somen, miso, teriyaki, korokke, kuromame, the list goes on and on. I was first introduced to traditional, homemade Japanese food when I was about 6 years old. In first grade, my best friend was Mayumi, and our families spent a lot of time together. Her mother, Toshi is an amazing cook, so I had the privilege of sampling Japanese cuisine from the best source imaginable. The food she made was similar to what you would find in an authentic Japanese restaurant, only better. When she made sushi rolls, I don't remember California rolls, or spicy tuna, or any of the popular rolls you might find on a menu. I remember rolls filled with egg (tamagoyaki) and carrot and either mushroom or kampyo (can't remember which… memory is a little fuzzy). So, whenever I make sushi rolls, I make them with Toshi's version in mind.
When I researched how to make tamagoyaki, or Japanese omelet, I discovered that it's preparation took a little finesse. I can't even make American omelets well, so I was intimidated by the way the traditional tamagoyaki was prepared. I continued to research, and discovered that you could take some shortcuts and still end up with a tasty egg dish. I baked mine in the oven, and was very happy with the results. Another thing I discovered about the omelet recipe, is that it commonly calls for dashi, which is a fish stock, and I am not fond of the though of that, so I omit it. I enjoy eating this all by itself, but I also use it in my sushi rolls. I will post a recipe of those soon as well. Check out some images of the easy prep, and scroll down for the recipe.↓
Mix all ingredients, and pour, through a strainer
into a greased baking pan.↓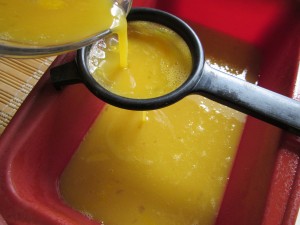 Bake at 300° F for about 15-20 minutes or until set.↓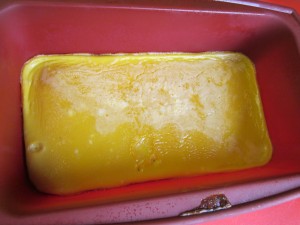 Flip onto a cutting board and cut off edges,
to make a neat rectangle.↓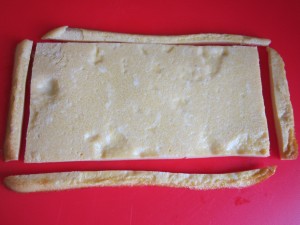 Slice into desired lengths/widths.↓
I use the long, narrow strips for sushi rolls, then slice the rest and eat!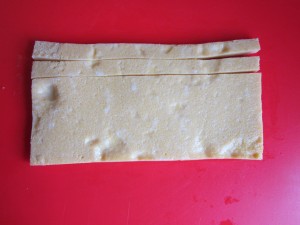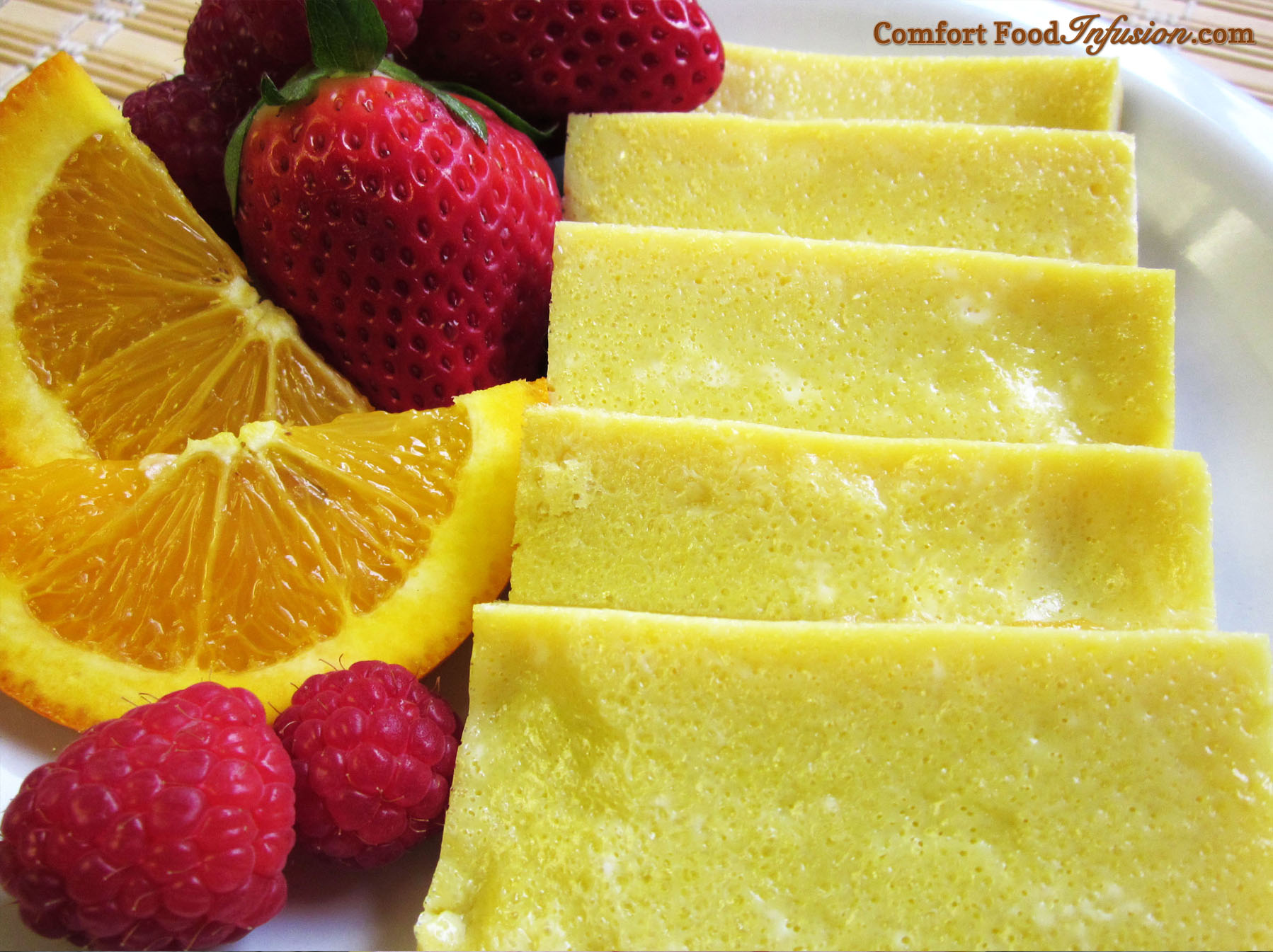 Japanese Omelet- Tamagoyaki
A simple, baked version of Japanese egg omelet. Use this in sushi rolls, or eat on it's own!
Ingredients
Ingredients
5

eggs

1

Tbsp.

sugar

1

tsp.

mirin

1

tsp.

soy sauce

or tamari for gluten free

cooking spray for baking dish
Instructions
Directions
Heat oven to 300° F

In a medium sized bowl, combine egg, sugar, mirin and soy sauce (or tamari). With a whisk, beat mixture until well blended.

Generously spray baking pan (I use a 9 x 5 silicone loaf pan) with non-stick spray.

Place a strainer above baking pan, and pour egg slowly into strainer. Discard bits of egg that remain.

Bake at 300° F for about 15-20 minutes, or until egg is set.

Remove from oven and allow to cool a bit.

Flip onto a cutting board and trim the sides so that a nice rectangle remains.

Slice egg into any size you wish. Long, thin slices are perfect for sushi rolls.