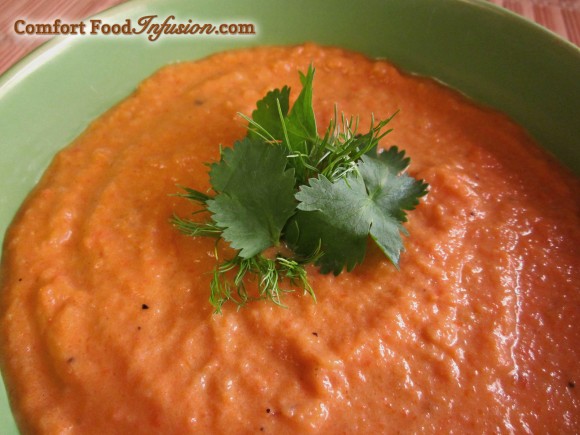 It's cold outside. Well, not really. It's chilly outside. No…. It's not truly chilly either.  I sure wish it were though.  I am feeling cheated out of a winter which didn't bring much cold or rainy weather.  There are a bunch of 'cold weather' foods that did not get prepared this last winter, simply because the temperature outside did not warrant them.  So, I've been watching the forecast and waiting for the rain to come (if it does not, this will certainly end up being a drought year).  The clouds keep creeping away, but I will not let there be a drought in my comforting, cold weather foods.  Today, I made a soul warming soup.  Don't wait for the 'right' day to make this recipe.  It is soothing and delicious all year long.
This version is vegan (using a vegan milk substitute of your choice).  Of course, it can be made with dairy milk, cream, half and half, or with no 'milk' whatsoever.  Make sure you increase the amount of broth if you omit the 'milk'. I added pictures of the preparation. Scroll down to view the recipe.
After roasting, vegetables are
brown around the edges.↓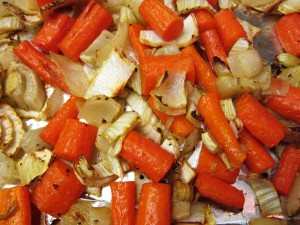 Combine roasted vegetables, broth, milk and spices. Simmer for 15 minutes.↓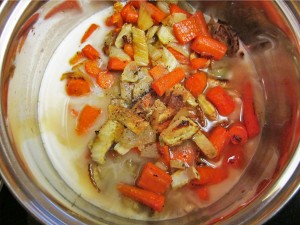 After 15 minutes of simmering, blend with a submersible blender (or pour carefully into a standard blender).↓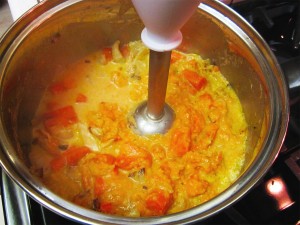 Blend until you reach desired consistency. I like very small chunks remaining.  Add more broth to thin the soup, if desired.↓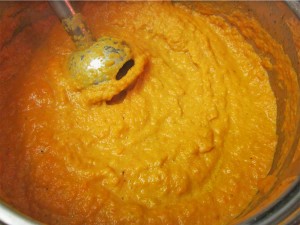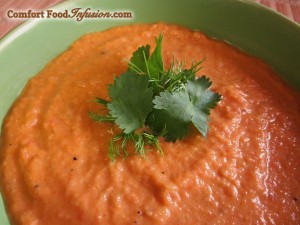 Creamy Carrot and Fennel Soup
Ingredients
Ingredients
8

large carrots

cut into 2 inch cubes

1

large fennel bulb

or 2 small, cubed (reserve fronds)

1/2

medium yellow onion

cubed

1

Tbsp.

olive oil

1/4

tsp.

ground coriander

salt and pepper

to taste

2

cups

vegetable broth

or more for a thinner soup

1/2

cup

vegan milk substitute

or half and half for non-vegan

cilantro for garnish
Instructions
Directions
Preheat oven to 425° F.

Line a baking sheet with tinfoil (for easy cleanup).

To prepare fennel bulb, cut off and remove the fibrous, green stalks. Chop fennel similar to how you would chop an onion. When chopping the carrots, onion and fennel, make sure they are uniform in size so that they roast evenly. Chop a handful of cilantro (or select a few whole leaves), reserve for garnish. Pull some fennel fronds off the stems, reserve for garnish.

Place chopped carrot, onion and fennel on lined baking sheet. Drizzle olive oil over all and sprinkle with salt, pepper, and coriander (1/8 - 1/4 tsp.). Using your hands, mix well to coat. Roast on middle rack of oven for approximately 20 minutes, or until brown around the edges of the vegetables. Stir once or twice during roasting, to evenly brown.

In a large pot, place roasted vegetables, broth, 'milk', a few more dashes of salt and pepper (to taste), and a dash or so (1/8-1/4 tsp.) of coriander. Bring to a boil, then reduce to a simmer. Simmer for about 15 minutes.

Using a submersible blender (or carefully pour soup into a traditional blender), blend soup until you reach a desired consistency. I make mine fairly smooth but with some small bits for a little texture. You can add broth to thin, if desired.

Serve immediately with cilantro and fennel fronds as garnish.
Notes
Tips:
This saves well, and reheats perfectly. Make a large batch and freeze the leftovers.