I made this for our family Easter gathering. It was a hit! It's hard when only a few guests are making drastic (sorry, that's a relative term) food choices. The rest of the party feels cheated, as they look at the spread on the table and don't see their favorite dish, or even worse, feel unsatisfied or hungry because their cravings for heavy, carb and protein filled foods are missing from the menu. I get it. I really do. That is why I am going back to my favorite recipes and trying to figure out what I can do to lighten or 'healthy' them up. This recipe does not need to be made vegan. Feel free to use regular mayonnaise and even real bacon. I'm telling you though, you will not miss the bacon when you substitute it with the Smoky Coconut Bacon I found while browsing one of my favorite blogs, Plant Based on a Budget. (I have the recipe listed below as well). Needless to say, the large bowl of my broccoli salad was emptied by the end of lunch… I don't think anyone felt cheated with this recipe. 😉
A great addition to our Easter pot-luck!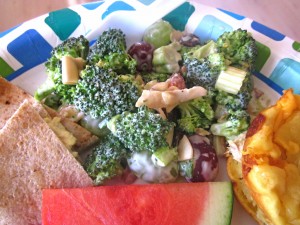 Try to find large flake coconut for the mock bacon. It's also a great snack, eaten plain.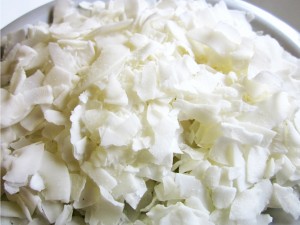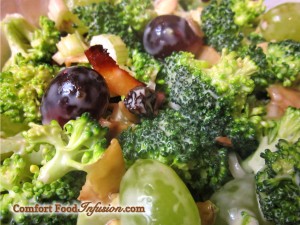 Broccoli Grape and Mock Bacon Salad
A vegan version of a springtime favorite.
Ingredients
Ingredients for Mock Bacon
1

cup

unsweetened

large flake coconut

2

tsp.

soy sauce

gluten free or tamari sauce

1

tsp.

anchovy-free Worcestershire sauce

1

tsp.

liquid smoke

1

tsp.

canola oil

or melted coconut oil

2

tsp.

agave syrup

or coconut sugar
Ingredients for Salad
2

heads fresh broccoli

cut into bite size pieces

1

cup

chopped celery

1/2

cup

green onions

sliced

1

cup

seedless green grapes

1

cup

seedless red grapes

1/2

cup

raisins

1/2

cup

chopped almonds

3/4

cup

vegan mayonnaise

such as Vegenaise or Earth Balance

2

tsp.

white wine vinegar

1/8

cup

agave syrup

or sugar
Instructions
Directions for Mock Bacon
Preheat oven to 350° F

Combine coconut flakes, soy sauce, Worcestershire sauce, liquid smoke, canola oil, and agave syrup in a medium bowl and mix to coat the coconut evenly. Pour coconut onto a baking sheet, along with any remaining marinade, distributing evenly on sheet. Bake for about 15 minutes, stirring every five minutes, until bacon is browned. (Keep a close eye because coconut goes from golden to blackened quickly!) Remove from oven and allow to cool, while preparing the salad.
Directions for Salad
In a large bowl, combine broccoli, celery, green onion, red and green grapes, raisins and almonds. Set aside.

In a small bowl, combine mayonnaise, vinegar and agave syrup (or sugar). Stir well to mix.

When coconut (bacon) has reached room temperature, add to the salad. Pour mayonnaise mixture on top and stir gently to evenly coat. Refrigerate or serve immediately. Can be made a day in advance.