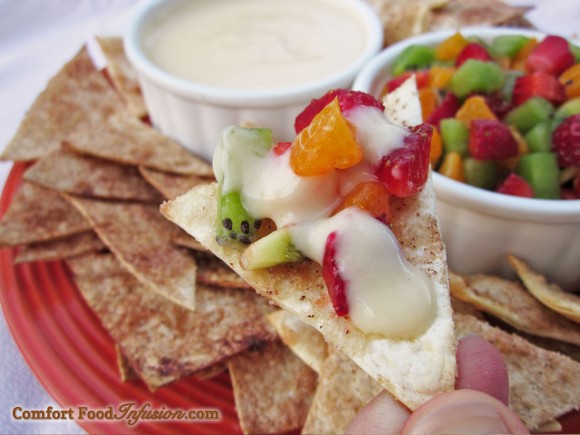 More ways to use the delicious strawberries sold at the local stand!….
I clipped this recipe out of a Sunset magazine about 20 years ago (22, to be exact). The title is a bit deceiving; you kind of need to push the word 'nachos' out of your brain a little. This fresh, healthy dessert tastes nothing like nachos. The similarities are, they both use 'chips'; and you scoop up the 'dip' with them. In this recipe, corn chips are replaced by flour or rice tortillas, veggies for fruit, and the cheese and sour cream, for a creamy, fruity dip. Then, because I am trying to 'dairy-free' many of my recipes, I substituted the dip's cream cheese for Trader Joe's vegan spread, and swapped the honey out for agave. Both versions are absolutely delicious.
You will be pleasantly surprised by how addicting this appetizer is. Double the size of your recipe if you have a lot of people to serve. It will go….FAST!
At first glance, this may look time consuming, but it really is not. You just prepare your working space and your tools, and you make some of it ahead of time… and it's completed with little effort. See some images of the prep below. Scroll down for the recipe.↓
Making the tortillas- Prepare your workspace with: A large cutting board, pizza slicer or large knife, bowl of water and pastry brush,
and a plate of cinnamon-sugar.↓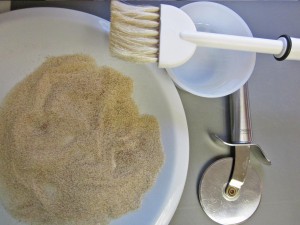 Use pizza slicer (or knife) to slice each tortilla (I usually slice each tortilla into about 18 to 20 triangles). Brush one side of each
triangle with a little water.↓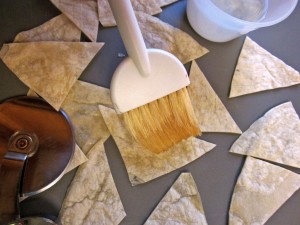 Dip each triangle into cinnamon-sugar, water side down.
Shake off excess.↓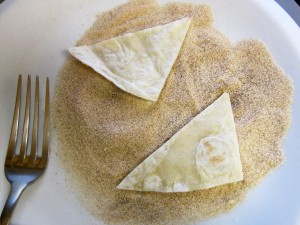 Lay tortillas, in a single layer, onto a foil-lined cookie sheet, sprayed lightly with non-stick spray.↓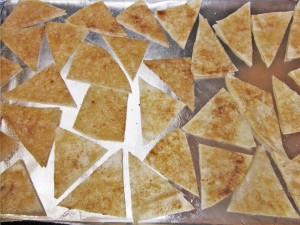 Bake at 500° F for 4 to 5 minutes, or until
just browned around edges.↓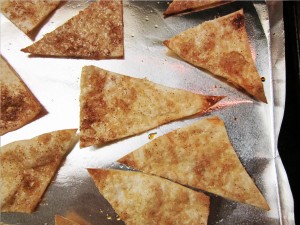 *Prepare ahead tip.* Prepare chips and creamy dip a day or so ahead. Fruit salsa must be prepared fresh and served somewhat promptly
(fruit will macerate and soften quickly).↓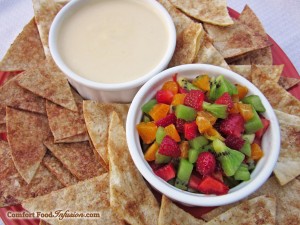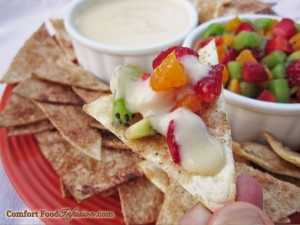 Fruit Nachos
A fresh, fruity and creamy version of nachos. The creamy dip can be made vegan, or with classic cream cheese and honey. The cinnamon-sugar tortilla chips can be made with brown rice tortillas for a gluten free version.
Ingredients
Ingredients for Tortilla Chips
8

large flour tortillas

or brown rice for gluten free

1/3

cup

sugar

1

tsp.

cinnamon

water for dampening tortillas
Ingredients for Creamy Dip (*Non vegan below)
1

8 oz. tub vegan cream cheese spread

1/4

cup

orange juice

I use fresh squeezed

2

Tbsp.

agave syrup
Ingredients for Fruit Salsa
2

large kiwis

peeled and diced

2

cups

strawberries

diced

4

fresh mandarins

segmented and diced (or 1- 11oz. can, drained well and diced)
Instructions
Directions for Tortilla Chips
Prepare your working space with- a large cutting board, a pizza slicer or large knife, a small bowl filled with water, and a pastry brush for brushing tortillas with water.

Heat oven to 500° F

Mix sugar and cinnamon in a shallow bowl or a large plate.

Working with one tortilla at a time, slice each tortilla into triangles. (Any size is fine, I usually get 18-20 triangles per large tortilla).

Brush each triangle on one side, lightly, with water. Dip (water side down) into cinnamon-sugar mixture. Shake off excess.

Place tortilla triangles, cinnamon-sugar side up, in a single layer on a tin-foil lined cookie sheet sprayed lightly with non-stick spray.

Bake in 500° F oven for 4 to 5 minutes, or until just browned around the edges. Remove baked tortillas to a large bowl lined with paper towels, to cool.

Repeat for next batch. This will produce about 4 to 5 cookie sheets worth.

Once cooled, the chips can be stored in a large zip-lock bag or plastic container with lid.
Directions for Creamy Dip
In a small sauce pan, combine vegan (or non-vegan) cream cheese, orange juice, and agave syrup (or honey). Whisk over low heat until cheese melts and is smooth. (This goes very quickly with the vegan version, and needs very little heat). Once blended, remove to cool, and store in refrigerator.
Directions for Fruit Salsa
Make this last, and shortly before serving- If using canned mandarins, drain well and place on paper towels to absorb even more juice. Dice all fruits and mix gently to combine.
Serve
Serve chips in a large bowl or platter. Place fruit salsa and creamy dip into two separate bowls, each with a spoon for easy and clean service.
Notes
Ingredients for Non Vegan:
1 (8 oz.) tub regular cream cheese
1/2 cup orange juice (I use fresh squeezed)
2 Tbsp. honey
Prepare the same as above. Notes for preparing ahead:
Chips and creamy dip can be made a day or two ahead. Store chips in an airtight bag or container. Store creamy dip in a lidded container in refrigerator.
Make the fruit dip the day of service. Best not to wait more than an hour or so before serving, as fruit macerates and softens quickly.