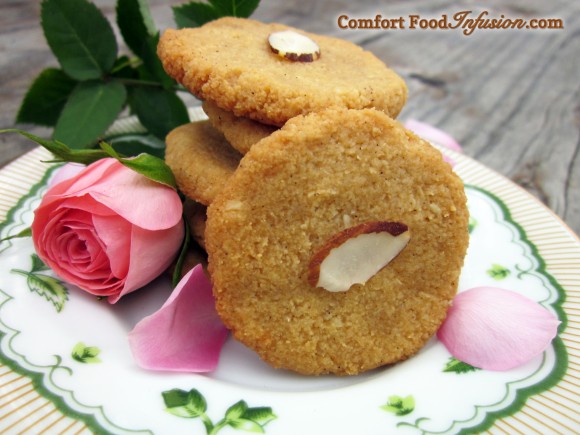 A Persian cookie called, Naan-e Badami inspired this recipe. Iranians use so many wonderful and exotic flavors in their cooking and baking. Rose water and cardamom are two flavors that appear in many Persian sweets. So, when I was craving a gluten free sweet today, this came to mind right away. I was looking for an almond flour cookie recipe that did not call for refined sugar, and I wanted to incorporate cardamom and rose water. Coincidence that the rose bushes in the yard are blooming? Hmmm. Anyway, I searched, and combined many different recipes to come up with this. You can omit the rose water in your cookies if you do not want it, or can't find it. Rose water is typically sold in Mediterranean and Iranian markets. Almond flour should be easier to find. Bob's Red Mill makes one, Trader Joes makes an almond meal that would work, and I found mine in a bulk bin at my local Win Co grocery store. I posted images of the prep. Scroll down for the recipe.↓
Whip egg whites with an electric blender set to medium, until firm peaks form (about 2 minutes).↓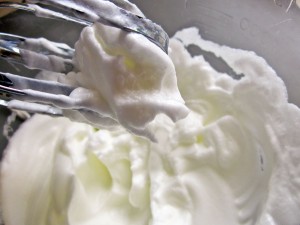 Blend almond flour, agave, rose water and cardamom until it resembles a coarse meal.↓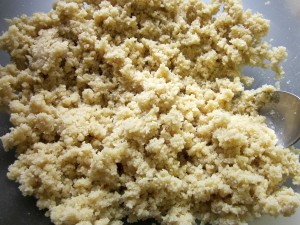 Using a soft spatula, fold whipped egg whites into
almond flour mixture.↓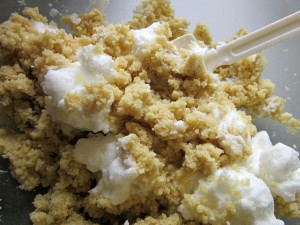 Continue to gently mix until
blended thoroughly.↓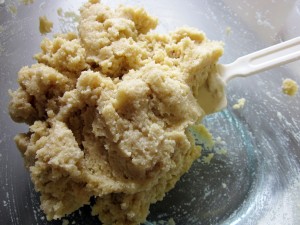 Using hands, dampened with water, roll into balls then press to flatten. Top each with an almond sliver.↓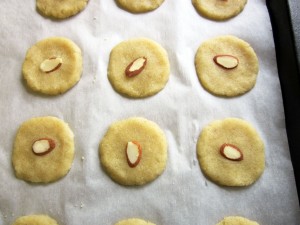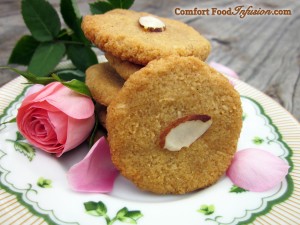 Chewy Almond Cardamom Cookies
Gluten free almond flour, combined with cardamom and rose water to make a unique and delicious, chewy cookie. Yields 3 dozen 1 1/2 inch cookies.
Ingredients
Ingredients
2

large egg whites

2 1/2

cups

almond flour or meal

1/3

cup

agave syrup

or honey

1/2

tsp.

ground cardamom

1/8

tsp.

salt

2

tsp.

rose water*

sliced almonds for garnish

about 36 or so
Instructions
Directions
Preheat oven to 225° F

In a medium size bowl, whip the egg whites with an electric mixer, on medium speed, until stiff peaks form (about 2 minutes).

In a large bowl combine almond flour, agave, rose water, cardamom and salt. Blend with a spoon, until all ingredients are mixed and it resembles a coarse meal.

Add whipped egg whites to the almond flour mixture, and using a soft spatula, carefully fold egg whites into mixture. Fold until just blended.

Lightly grease, or line a cookie sheet with parchment paper.

Using your hands (dampened with a little bit of water to prevent sticking), roll dough into balls about one inch in diameter. Press each ball into a semi-flattened circle (about 1 1/2 inch in diameter). Top each with a sliced almond.

Bake at 225° F on top rack of oven, for 25-35 minutes. They are done when they have turned a light golden brown.

Remove from oven, let stand for about 5 minutes, then transfer from cookie sheet to a rack or separate plate.
Notes
*Rose water can be found in Mediterranean or Iranian markets. It can be omitted from the recipe as well.