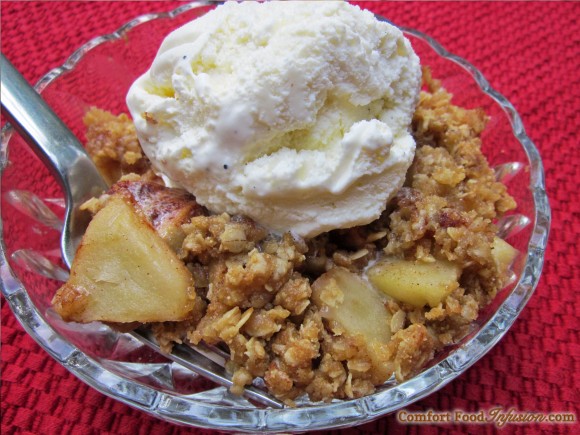 Last Friday I made this delicious Apple Crisp, but the site was under construction, so I didn't post it. This is one of my Mother's favorite desserts, so I made it for her for Mother's Day. I'm sure there are plenty of you out there, who are not in search of gluten free recipes. That's totally OK… for two reasons: One- You can NOT tell that this uses gluten free ingredients; Two- You don't HAVE to use gluten free ingredients. The gluten free flour mix that I use is a cup for cup substitute for wheat flour, so it is easy to switch flours. You may be wondering about the oats. It came as a surprise for me, to find out that 'pure' oats do not contain gluten. I'm not sure why that fact was unexpected. You do need to be careful when selecting oats though, especially for those with severe gluten allergies. Most commercial oats are processed in facilities that also process wheat, barley, and rye. The gluten in these ingredients can contaminate oats, and the contamination can occur in the fields where oats grow as well. Certified gluten free oats will be labeled as such, so be sure to read the packaging carefully.
This is so simple to make. One of the things that makes Apple Crisp (or 'crumble') so much better than Apple Pie, is it's ease of preparation…. No dough to mix, roll out and form into a pie tin. (I have yet, to try baking with a gluten free pie crust). See the quick and easy steps below, and Scroll down for recipe.↓
Combine brown sugar, oats, flour, and melted butter. Mix well and press half of the mixture into the bottom of a greased baking dish (8 inch square pan or similar size).↓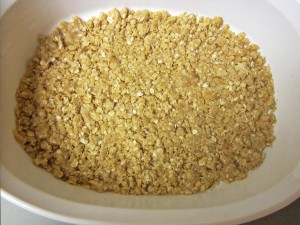 Top crumb mixture with chopped apples. Sprinkle apples with sugar and cinnamon.↓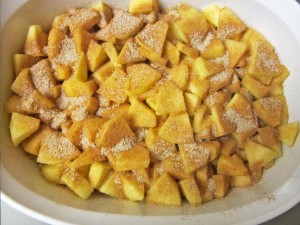 Top apples with leftover half of crumb mixture. Bake uncovered, at 350° F for 40 to 45 minutes.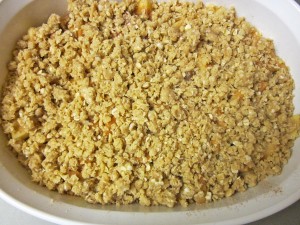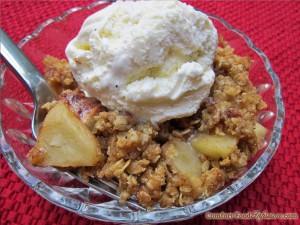 Apple Crisp
A delicious apple crisp made with oats and gluten free flour... or you can use wheat flour!
Ingredients
Ingredients
3/4

cup

brown sugar

1

cup

rolled oats

gluten free

1

cup

gluten free flour mix↓*

or wheat flour

1/2

cup

butter

melted

3

cups

apples - peeled

cored and chopped

1/3

cup

white sugar

1 1/2

tsp.

cinnamon
Instructions
Directions
Heat oven to 350° F.

Lightly grease an 8-inch square baking dish (or similar size).

In a large bowl, combine brown sugar, oats, flour and butter. Mix until crumbly. Divide mixture into two equal parts.

Press half of crumb mixture into the bottom of the baking dish.

Spread the apples evenly over crumb mixture. Sprinkle with sugar and cinnamon.

Top apples with remaining crumb mixture.

Bake, uncovered at 350° F for 40 to 45 minutes, or until golden brown.
Notes
*Gluten Free Flour Mix (makes approx. one cup)
3 Tbsp. tapioca starch
3 Tbsp. corn FLOUR
3 Tbsp. brown rice flour
1/8 cup + 1 tsp. potato STARCH
1/8 cup + 1 tsp. white rice flour
1 Tbsp. corn STARCH
1 Tbsp. coconut flour
Mix all flours well to combine.
Visit https://comfortfoodinfusion.com/gluten-free-flour-mix/ for the recipe to make a large batch of this, and store in an airtight container for future use.