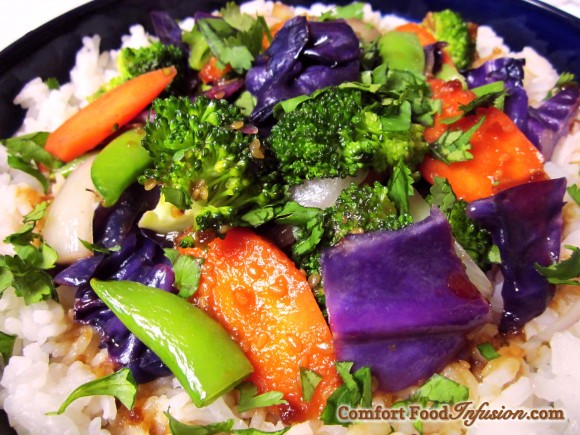 I love stir fry. Many different vegetables and seasonings work well for stir fry. You don't need a recipe, nor do you really need skill. You just need to know what you like. Today I was in the mood for something colorful on my plate. This recipe is colorful, nutritious, delicious and so easy. I used Trader Joe's Island Soyaki for this. You may use any sauce that tickles your fancy.
Throw all veggies in a pan with pre-heated olive oil. Easy Peasy.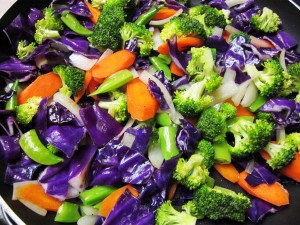 Colorful Vegetable Stir Fry
Super easy stir fry, topped with Trader Joe's Island Soyaki.
Ingredients
Ingredients
4

cups

cooked jasmine or sushi rice

about 2 cups uncooked

1

Tbsp.

olive oil

4

cups

chopped vegetables

such as: red cabbage, carrots, onions, broccoli, and sugar snap peas

4-6

Tbsp.

or more to taste Trader Joe's Island Soyaki*

handful cilantro

chopped, for garnish
Instructions
Directions
Prepare rice according to package directions.

Heat a large fry pan or wok over medium-high heat. Add olive oil and heat for a few seconds. Add all vegetables to fry pan. Stir vegetables frequently, and cook for about 5-8 minutes, (or until the onions begin to turn slightly translucent, but they are still crisp).

Pour cooked rice onto a large serving serving plate (or in individual bowls). Top rice with stir fried vegetables. Pour Island Soyaki over the top, and garnish with cilantro.

Serve.
Notes
*Use any sauce or marinade that you wish. Or omit the sauce all together, and simply season vegetables with salt and pepper.