Today is going to be a doozy. I'm making up for sparse blogging over the summer. Kids are back in school now and I have a little more time to…. well, just concentrate and complete a single task. 😉 So, I made these wonderful quesadillas the other day, but I can't just post about those, because many great things brought this dish together. Also on my blog today, is a recipe for traditional Pico De Gallo (chunky salsa), and a yummy Cilantro Spread. Three recipes = a fresh and delicious meal. I filled my quesadillas with grilled veggies, fresh avocado, cheese, and a cilantro/mayo/yogurt spread. I used corn tortillas because I cut back on gluten when I can. They can just as easily be made with flour or brown rice tortillas. Below you will find pictures of the prep. Scroll down for recipe.↓
Over high heat, brown your chopped veggies.
(Stir often, for about 5 minutes).↓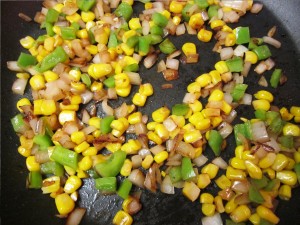 In a large fry pan or skillet, over high heat, place tortillas.↓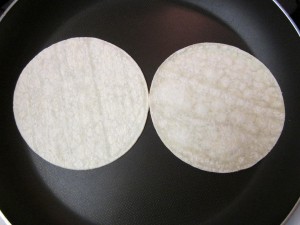 Top one tortilla with shredded cheese and grilled veggies.↓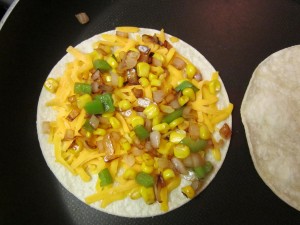 Top with fresh avocado.
Once cheese has melted and tortillas begin to brown,
spoon cilantro spread over one tortilla.↓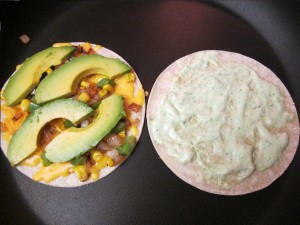 Immediately after topping with cilantro spread,
flip onto filled tortilla and remove from heat.↓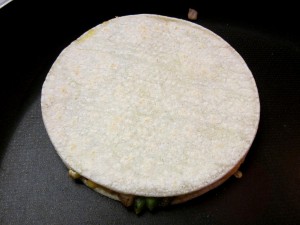 Slice into quarters and serve with Pico De Gallo.↓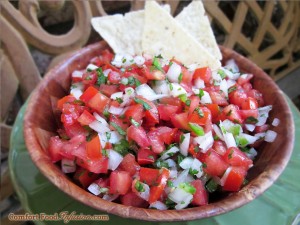 Click here for Cilantro Spread.↓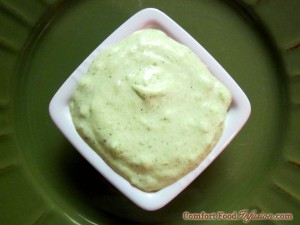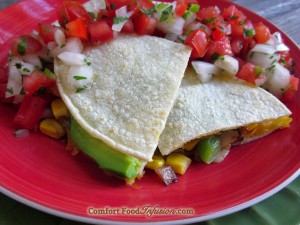 Cheese and Veggie Quesadillas
Grilled veggies, fresh avocados, cheese, and a tasty cilantro spread make a delicious meal. Serve with fresh Pico De Gallo. Makes two quesadillas (8 wedges).
Ingredients
Ingredients
1

tsp.

olive oil

1/3

cup

corn kernels

fresh or frozen

1/2

medium onion

chopped

1/2

green bell pepper

chopped

4

small-meduim tortillas

I used corn

1/2

avocado

sliced

1/2

cup

shredded cheddar cheese

1/4

cup

cilantro spread*

1/2

cup

pico de gallo*

for garnish
Instructions
Directions
In a fry pan or skillet, over high heat, brown the corn, onion and bell pepper. (Stir often for about five minutes.) Once browned, either leave veggies in pan on a very low heat, or remove from pan.

In a large fry pan or skillet, over high heat, place tortillas. Top one tortilla with shredded cheese, grilled veggies, and sliced avocado. Heat until cheese has melted and tortillas begin to brown.

To the empty tortilla, spoon on cilantro spread. Immediately flip cilantro topped tortilla onto filled tortilla and remove from heat.

Cut into four wedges and serve with Pico De Gallo.
Notes
*Recipes for Cilantro Spread and Pico De Gallo can be found here:
https://comfortfoodinfusion.com/creamy-cilantro-spread/
https://comfortfoodinfusion.com/pico-de-gallo/