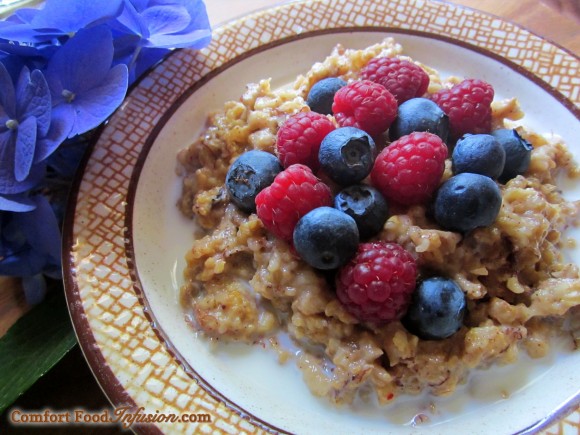 Here is a simple one! Throw a few ingredients in a crock pot at night, and wake up to breakfast- already made. Sweet! This even beats emptying a dry packet of instant oatmeal and waiting 2 minutes for it to cook. This oatmeal is literally only a few seconds, and a spoonful away. It may seem as though this recipe calls for a lot of liquid (4 cups to one cup oatmeal), but it really is necessary, since it sits for so long in a crock pot. You may want to adjust your liquid depending on exactly how long you plan on cooking it. For instance: Using 3 cups of liquid per cup of oatmeal should only be a 6 hour spell. If you want to leave the oatmeal in the crock pot for 8 hours or longer, you definitely need 4 cups of liquid. I have made this plain and with bananas. The bananas darken the oatmeal a bit and make it taste like banana bread. I think I prefer it plain, because then individual servings can be customized however one likes. Sometimes I put fresh fruit on top of mine, sometimes raisins and other dried fruits. Other times I like it plain with a little milk and honey. Customize this recipe to your hearts content!
*Some notes about the oats:
1- You must use steel cut oats. If you use instant or rolled oats, they will cook super quick and turn into a mushy mess, stuck to the sides of the crock pot.
2- Oats are naturally gluten free. Although, if you have a severe reaction to gluten, you must be very careful when purchasing oats. Many manufacturers produce or store other grains containing gluten in their facilities. Therefore, the oats can become contaminated. Be sure to read the labels carefully, and make sure they are certified gluten free.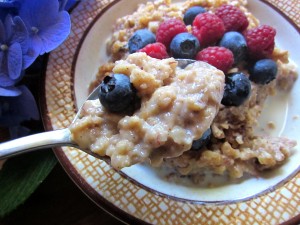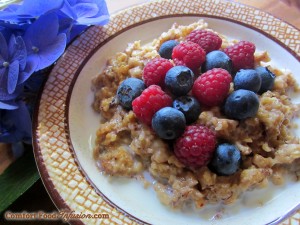 Crock Pot Oatmeal
Throw all ingredients into a crock pot and wake up the next morning to breakfast, already made!
Ingredients
Ingredients
non-stick cooking spray

2

cups

STEEL CUT oats*

NOT instant or rolled oats

6-8

cups

of water or milk**

or a combination of both

1/4

cup

brown sugar

1

tsp.

vanilla

1/2

tsp.

cinnamon

1

banana

mashed (optional)

or

2

apples

peeled and diced (optional)

or

1/2

cup

raisins

optional
Instructions
Directions
Spray sides and bottom of crock pot, to prevent the oatmeal from sticking to the sides too much.

Toss in all ingredients (and an optional ingredient, if desired).

Set crock pot to low and cook overnight (for 6-8 hours***).

Serve with your choice of additional toppings!
Notes
Notes:
*If you are preparing gluten free, you must look for a brand that certifies that it is gluten free. Many manufactures also house gluten ingredients in their factory or warehouse, so read the labels carefully.
**Any 'milk' can be used, such as almond milk, coconut milk, etc. You could simply use all water. Although, I like to use half water and half milk.
***If cooking for 6 hours, use 6 cups of liquid. If cooking for 8 hours or more, use 8 cups of liquid.