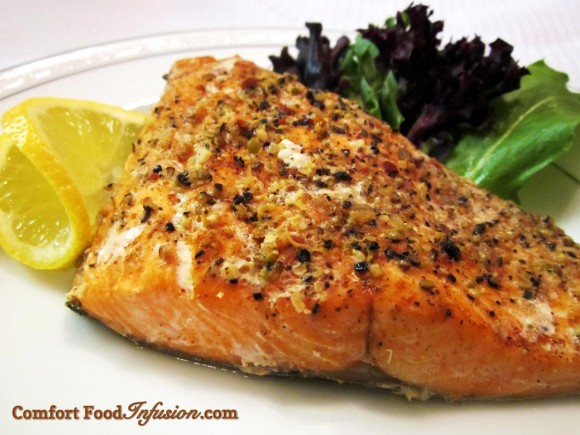 My boys love the marinated salmon that Costco sells in their freezer section. Unfortunately, my boys don't love the salmon recipes that I have made in the past…. until this one. I wasn't even trying to copy the flavor when I decided to use Trader Joe's Everyday Seasoning, but the boys say it tastes even BETTER. *pats self on back* Sometimes, preparing a recipe with a bunch of (what seems like) wonderful ingredients, results in a 'meh' meal. On the other hand, sometimes you come across a recipe that looks too simple to be good, but it turns out great. This is one of those recipes. Dinner's ready 30 minutes from the time you pull the salmon from the refrigerator, and only five of those minutes are spent preparing. Easy peasy, lemon squeezy…. literally! Recipe Below.↓
Place salmon fillets on a foil lined cookie sheet and
squirt lemon on each one.↓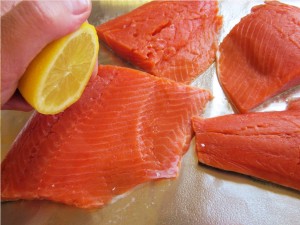 Brush olive oil on each fillet.↓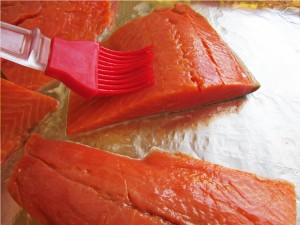 Sprinkle with seasonings. (If desired, let marinate for an hour,
or bake right away).↓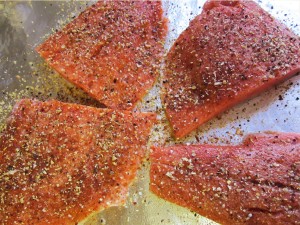 Place another piece of tin foil on top and crimp around the edges.
Bake for 25 minutes.↓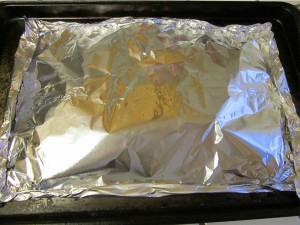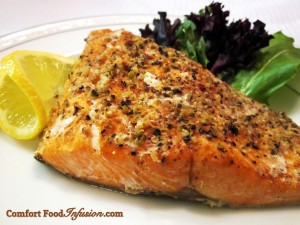 Simple Salmon
Simple Salmon seasoned with Trader Joe's Everyday Seasoning.
Ingredients
Ingredients
4

salmon fillets

juice of one lemon

1

Tbsp.

olive oil

1/4

tsp.

paprika

1

Tbsp.

or so Trader Joe's Everyday Seasoning
Instructions
Directions
Heat oven to 400°F

Line a cookie sheet with tinfoil. Spray lightly with cooking spray.

Place salmon fillets, skin side down on foil.

Squeeze lemon juice on all fillets.

Using pastry brush, apply olive oil to the tops of each fillet.

Sprinkle each with a little paprika.

Liberally sprinkle (to cover) each fillet with Trader Joe's everyday seasoning.

*(At this point, you may let salmon marinate for about an hour to incorporate flavors. Or, simply bake right away).

Place a second large sheet of foil over all four fillets. Crimp around edges to seal.

Place in preheated oven on center rack, and bake for 25 minutes.

Remove from oven. Allow to rest for about five minutes, then serve.