Wouldn't it be wonderful if the tempura truly were free? Well, it's not. It will cost you something to purchase the ingredients, but at least you can do it GUILT free. I have been craving tempura since last week's post, Sweet Potatoes with Balsamic Kale. I grabbed my favorite tempura vegetables and experimented with a gluten free (and vegan) batter. I cannot believe how well it turned out. Better than the box mix tempura, by far! It was crispy and had a fantastic color and flavor. I did two batches using two different types of gluten free, all-purpose flour. I found that the flour whose primary ingredient is rice flour produced a better batter. I used Trader Joe's all-purpose, gluten free flour mix. Scroll down for the tempura recipe, as well as a dipping sauce.
Sliced vegetables↓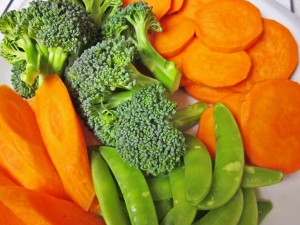 Dip vegetable in batter and let drain for a second, so that it is not too thick with batter.↓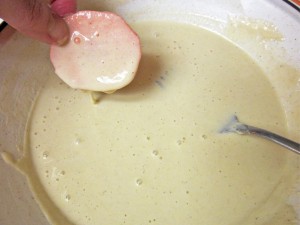 After frying, let drain on a rack with a
paper towel underneath.↓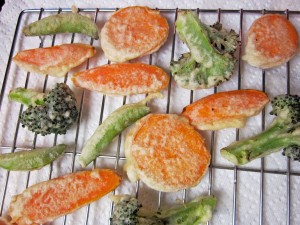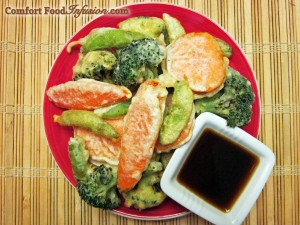 Free Tempura
A super crispy and delicious tempura batter, minus the gluten, and vegan to boot! Served with a simple dipping sauce.
Ingredients
Ingredients for Vegetable Tempura
1

cup

all-purpose

*gluten free flour

3/4

cup

cornstarch

1/2

tsp.

baking powder

1/4

tsp.

baking soda

1/8

tsp.

salt

1

cup

cold water

5

cups

assorted sliced vegetables

such as- carrots, sweet potato, broccoli, and sugar snap peas (or green beans)

canola oil for frying
Ingredients for Dipping Sauce
1/3

cup

mirin

1/4

cup

tamari or gluten free soy sauce
Instructions
Directions for Dipping Sauce
In a medium size bowl, combine mirin and soy sauce or tamari sauce. Stir. Set aside.
Directions for Vegetable Tempura
In a large, shallow bowl combine flour, cornstarch, baking powder, baking soda, salt and water. Mix with a whisk until batter is lump free. The consistency should be similar to thin pancake batter. Add a little water or flour to reach the right consistency. Place in refrigerator while preparing vegetables (at least 15 minutes).

Slice vegetables.

In a large, shallow sauce pan or fry pan, pour about 2 inches of canola oil. Heat oil over high heat until a small drop of batter instantly sizzles and floats to the top.

Remove batter from refrigerator. Dip vegetables, one at a time, in the batter, allowing the batter to drain off for about a second (you do not want a thick coating). Place directly into hot oil (about 4 to 6 pieces can fry at a time, do not overcrowd). Fry on one side for about 20-30 seconds or until there is a faint hint of brown on the edges. Turn over vegetables and fry for another 20 seconds or so. (You may want to fry longer, but I like my veggies to still have a little bite to them).

Remove fried veggies to a rack with a paper towel underneath, to drain.

Serve immediately with dipping sauce.
Notes
*Many brands make all-purpose, gluten free flours. The flours used in each brand differ. I find a brand whose primary ingredient is rice flour is best for this recipe.
COLD WATER! Make sure you use cold water in the batter and store it in the refrigerator according to directions. For some reason, this produces a wonderful, crispy batter.
REHEATING! These reheat quite well. Preheat oven to 275° F. Place tempura on a small rack, directly on the oven rack (for air and heat to circulate around). Heat for 5 to 10 minutes, or until hot to the touch. Serve with dipping sauce.