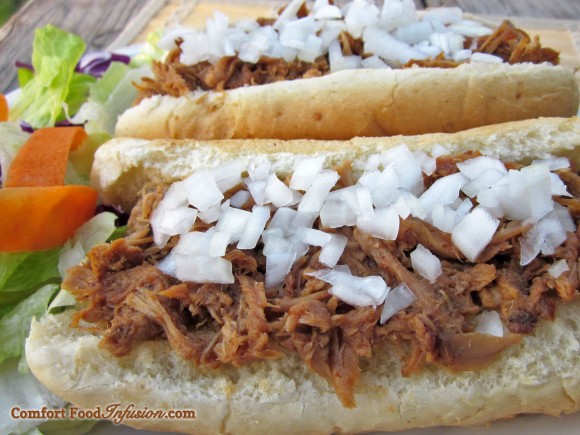 I don't normally post on a Sunday, but I decided to share this recipe in honor of Memorial Day. Many of you have the day off from work tomorrow, and may have a barbeque, potluck, party, or get together planned. Pulled pork is a delicious, easy and popular dish to serve for such an occasion. My favorite pulled pork recipe, is one that my sister-in-law made a while back. I thought I had her recipe, but couldn't find it. Needing instant gratification, I Google'd some recipes and concocted this recipe which seems close to what she made. Also thanks to my sister-in-law, we have discovered our family's favorite barbeque sauce, Kinder's. Add whichever sauce is your favorite. This recipe uses pork tenderloin. I like the low fat content of the tenderloin, and it's wonderful tender texture. You could use pork shoulder or butt, if you prefer. The best thing about this recipe is how easy it is to prepare. It all gets thrown in a crockpot, and 6-8 hours later… YUM-O!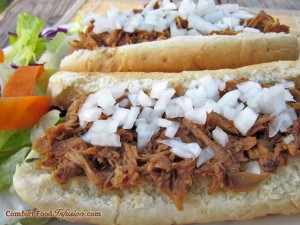 Crock-Pot Pulled Pork
Delicious pulled pork. Throw it all in a crock-pot!
Ingredients
Ingredients
3/4

cup

chicken broth

1/4

cup

apple cider vinegar

1

tablespoon

brown sugar

2

tsp.

chili powder

2

tsp.

salt

1/2

tsp.

cumin

1/8

tsp.

cinnamon

4

pounds

pork tenderloin*

1

large onion

thinly sliced

3

garlic cloves

chopped or minced

2

cups

Kinder's Mild BBQ Sauce

or your brand of choice
Instructions
Directions
In a medium bowl, combine broth, apple cider vinegar, brown sugar, chili powder, salt, cumin and cinnamon, stir well.

Place pork in crock-pot. Top with onions and garlic.

Pour all over, the liquid/spice mixture.

Cook on high for 6-8 hours, or on low for 8-10 hours.

When pork is done cooking, remove from crock-pot, carefully. Place on a large working surface, and shred pork with a fork.

Place a strainer over a medium sized bowl. Pour the liquid/onions that are remaining in the crock-pot, over the strainer into the bowl.

Place back into the crock-pot (or serving dish), the shredded pork and onions. Pour some of the reserved liquid (about 1/4 cup) over the pork/onion. Use your desired amount of liquid to moisten it to your liking.

Add barbeque sauce to your liking. I don't add too much to the serving dish, but offer the bottle along side, so that everyone can pour their desired amount of sauce on their portion.
Notes
*My preferred cut of pork is tenderloin. You can also use pork butt or shoulder.