I love sweet potatoes. I love them topped with marshmallows at Thanksgiving. I love them as fries, and battered tempura style. I think I would love them any way they are served. There are probably only about one thousand and one more ways to prepare them, and I may just search out all those ways. Here is a way to not only make them more delicious, but also make them even more nutritious by topping them with kale. This recipe has many of my favorite flavors, such as balsamic vinegar, orange and ginger. Next time you plan to serve baked potatoes, consider these instead. They have tons more fiber, vitamins and minerals, and much less starch and fat. I won't tell anyone if you add a large pat of butter to the baked sweet potato before topping it with the kale and mushrooms. 😉 Recipe below.↓
Kale, after roasting in pan for about 6 minutes. Do not crowd in pan. Separate into batches, if necessary.↓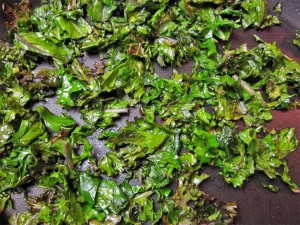 Orange peel, ginger and garlic are zested on a microplane (or zester), added to balsamic vinegar, then heated to reduce.↓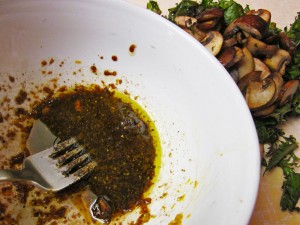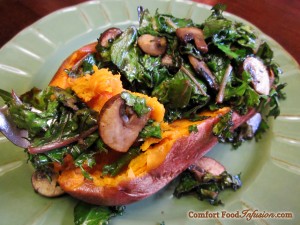 Sweet Potatoes with Balsamic Kale
Baked sweet potatoes topped with a kale, mushrooms and a citrus balsamic glaze.
Ingredients
Ingredients
4

small/med. sized sweet potatoes

1

bunch kale

I used red kale, washed, trimmed and roughly chopped

8

oz.

crimini mushrooms

sliced

1/4

cup

balsamic vinegar

1

tsp.

orange zest

1/2

clove

of garlic

finely minced or grated with a microplane

1/2

inch

slice of fresh ginger

finely minced or grated with a microplane

1/4

tsp.

salt

pepper

to taste

1

Tbsp.- plus 2 tsp. olive oil
Instructions
Directions
Heat oven to 400° F

Wash sweet potatoes and poke each a few times with a fork. Wrap each separately in tinfoil and place on a baking sheet. Bake for approximately 40 minutes, or until tender when pierced with a knife. While sweet potatoes are baking, move on to next step.

*In a small sauce pan, add balsamic vinegar, orange zest (use a fine grater or microplane), minced garlic, minced ginger, salt and pepper. Bring to a boil, then reduce to a simmer. Simmer, uncovered for 7 minutes. The balsamic will now be reduced and a little thick. Remove from heat and allow to cool while preparing the rest.

Heat a large fry pan or saute pan over medium heat with 1 tsp olive oil. Add chopped kale to hot oil and saute, stirring frequently for 6 minutes, until wilted. Do not overcrowd the kale, saute in batches if necessary. Remove kale from pan.

Add 1 tsp. olive oil to the fry pan and bring back to medium-high heat. Add chopped mushrooms to hot oil and saute, stirring frequently, until browned but not soggy (about 5 minutes). Turn off heat and add all kale back to saute pan.

Add 1 Tbsp. olive oil to the cooled balsamic mixture, and whisk well to blend. Pour on top of kale/mushroom mixture.

Remove baked sweet potatoes from tinfoil, and with a knife, cut a slit lengthwise down each. Spread open each sweet potato, and pile about 1/2 cup of the kale/mushroom mixture on top of each. Serve.
Notes
*Heating the balsamic vinegar reduces the acidity and sweetens and mellows the flavor.