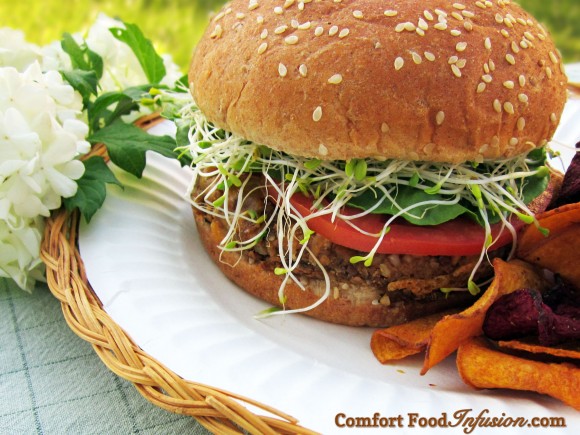 This recipe is my favorite right now. I don't know when I will get enough of it. This 'meat', with nuts and vegetables as its star ingredients is so satisfying and fulfilling, even for carnivores. I promise you, any meat eaters in the family will not feel cheated with this meat substitution. You can readily find veggie burgers filled with soy, corn, beans and other vegetables. There is nothing wrong with that variety, but they never 'fit the bill' for me. I discovered a nut burger at a natural foods drive-in, near my home. Well, it was actually a nutty taco… my husband had the nut burger. Not only was I floored by how good the nut 'meat' was, I was also pleasantly surprised when my hamburger-loving husband thoroughly enjoyed his as well. We don't live so close to the restaurant anymore, and I have to admit, it is a long wait for their food, so it's not so convenient to eat there often. I have been searching for a similar recipe for years. I recently decided to combine a few different recipes that I found while searching, and ventured to give my version a try. I can really only say, WOW! I am so happy with the result. I have made burgers, tacos, mini-appetizer tacos, and meatballs with this recipe, and I will continue to use it in many other meals. This recipe also makes A LOT (6-12 burgers, depending on size), and I freeze 2/3 of the batch every time I prepare it. What will you do with the nutmeat?
Because I enjoy using this 'meat' in my recipes so much, I decided to break this into two posts. Tomorrow, I will post the nutty tacos. There is not much different in that recipe. In fact, the only thing that would change would be your choice of seasonings for the 'meat', and of course, the way you assemble your meal with bread, condiments, etc. Images of prep below. Scroll down for recipe.↓
Use the leftover pulp, from
juicing about 8 carrots.↓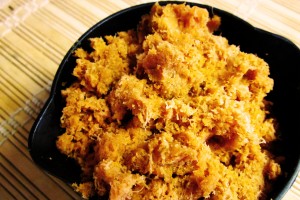 Blend nuts separately from veggies. Combine and mix together. Will be the consistency of raw meat.↓
Form into patties.↓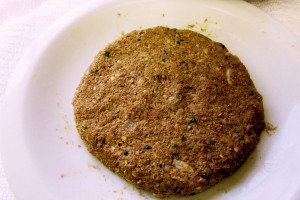 Fry patties in a little heated olive oil.↓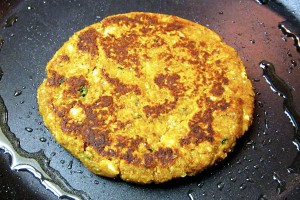 Top with cheese (vegan or otherwise)
if desired.↓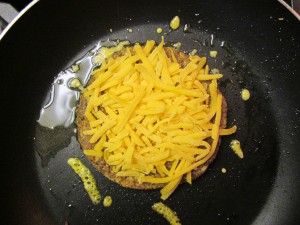 Yuhuhuuumm! I'm comforted!↓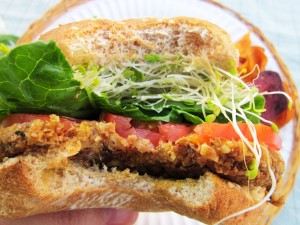 I mentioned, last week, that I made some nutmeat into meatballs and added it to my Pomegranate and Walnut stew. It turned out so good!
See that recipe here.↓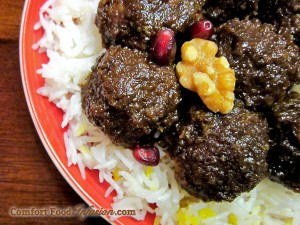 This also makes great Nutty Tacos!↓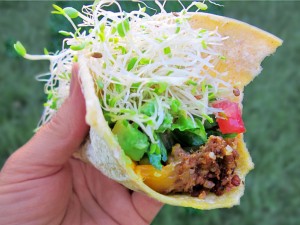 …And, tasty Loaded Baked Potato Bites!↓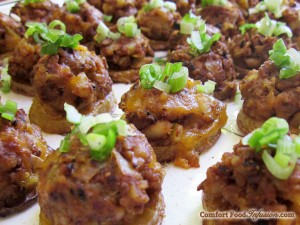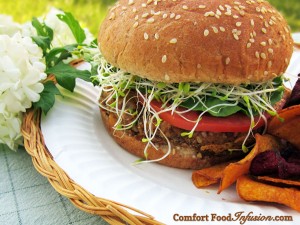 Nut Burgers
An amazingly delicious meat substitute made with nuts and vegetables. So many uses, besides hamburgers. (Makes 6 very large, or 12 small burgers)
Ingredients
Ingredients for Nutmeat
1

cup

carrot

pulp (leftover after juicing about 8 carrots)

1

cup

shelled raw walnuts

1

cup

raw cashews

1

cup

raw sunflower seeds

1

cup

shelled raw almonds

1

cup

chopped celery

1

cup

chopped onion

2

cloves

minced garlic

2

Tbsp.

cilantro

or parsley

2

large eggs*

see vegan in notes

1

Tbsp.

soy sauce

gluten free if needed

1/8

tsp.

curry powder

1/4

tsp.

mustard powder

1/4

tsp.

poultry seasoning

1/2

tsp.

ground cumin

1

tsp.

mild chili powder

1/2

tsp.

salt

pepper

to taste

2 - 3

Tbsp.

olive oil

for frying burgers
Instructions
Directions
**Juice approximately 8 carrots. Drink the juice and reserve 1 cup pulp.

Place walnuts, cashews, sunflower seeds, and almonds in a food processor or blender and pulse until you have a medium fine meal consistency ***(it's nice to have pieces of nuts to chew on, see notes). Remove to a large mixing bowl.

Place onion, celery, garlic and cilantro (parsley) in food processor and pulse until you have nearly a puree. Remove to same large mixing bowl as nut mixture.

Add to the large bowl, reserved carrot pulp, soy sauce, eggs, curry powder, dry mustard powder, poultry seasoning, cumin, chili powder, salt and pepper.

Using your hands, mix the ingredients together until well incorporated. Will feel like raw meat.

Form into 12 small patties or 6 large.****

Fry in a pan over medium heat until brown on each side.

Top with regular or vegan cheese, if desired.

Assemble burger however you wish.

Serve!
Notes
The seasonings/spices in this recipe can be adjusted in many ways to fit your liking, or to fit the flavors of the recipe in which you are using the nutmeat. For instance, the seasonings here have a bit of a Tex-Mex flavor, and it makes it perfect for taco meat, but I like it for the burgers too. You can omit the cumin and chili powder and add some Worcestershire sauce (check ingredients if vegan) if desired.
*If not using eggs, replace with 2 Tbsp. flax meal mixed with 6 Tbsp. water. (Let the mixture sit for about 5 minutes to thicken).
** If you don't have a juicer, you can just chop the carrots, and add them to the onion, celery, cilantro, and garlic before pureeing.
***The best texture is for there to be little bits of nuts and veggies in the burger. Although, the ability to bind this mixture counts on pureed veggies and almost butter-like processed nuts. Here is a tip-
1-Blend nuts (veggies) just a little, then pull a few spoonfuls out and reserve in a small bowl.
2-Continue to blend the nuts (veggies) until almost butter-like (veggies would be pureed).
3-Add the bits of nuts and veggies back into the final mixture.
****At this point, you can also take a wooden spoon and crumble up the nutmeat if making tacos, or other recipes requiring crumbled meat.