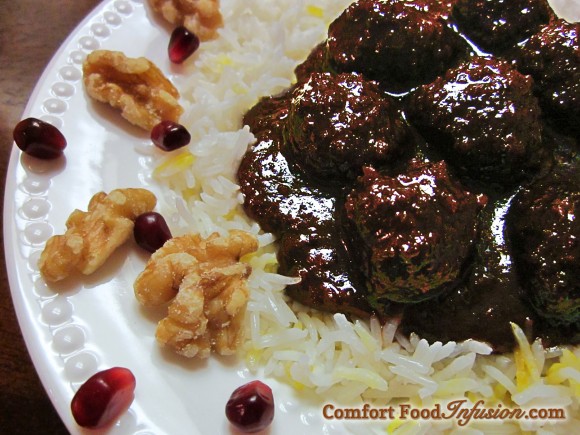 Khoresht Fesenjan (Pomegranate Stew) is a classic Persian comfort food. It is commonly served in the winter, because that is when pomegranates are in season, and it is such a rich, soul warming meal. Even though winter is far behind us, I am trying to get all of our favorite cool weather foods made and out of my system, before the summer's stifling heat prevents me from wanting to turn a flame on in the house. This dish is probably more commonly made with chicken, but our family prefers it with beef meatballs. This recipe uses a soup-like base of ground onion and walnuts, sugar, and pomegranate molasses, which can be found in Mediterranean or Iranian markets. The molasses is soooo sour, which is why it is necessary to add such a large amount of sugar. I have only ever tried brands that produce a sour molasses. It is possible to come across one that is not so sour, therefore you would reduce the sugar. I taste the stew as it is simmering and add sugar to my liking. You may want to leave it sour, or sweeten it quite a bit. Up to you.
As I was beginning the preparation for this meal, I was wondering how I could make it meat-less. I could simply just make a soup containing ground onion and walnuts, and pomegranate molasses. That would taste perfectly fine. Then it occurred to me that I could also make this with my nut-burger recipe. So, I made a vegan version of this as well. Images of prep are below. Scroll down for recipe.↓
Grind walnuts in food processor.↓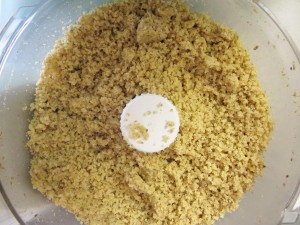 Grind onions in food processor.↓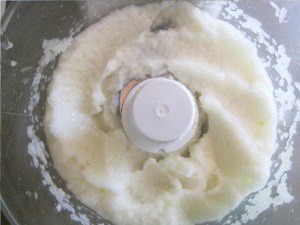 Combine ground beef, 1/2 of the ground onion, and spices and roll into 1 1/2 inch balls. Brown in a large fry pan.↓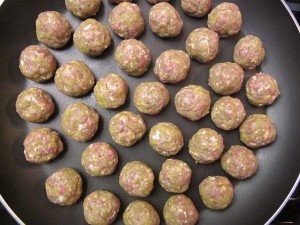 *Meatball flipping tip* Gently pick up meatball with tongs, place one meatball on the top edge of it's neighbor, and let it roll down
and onto its flip side.↓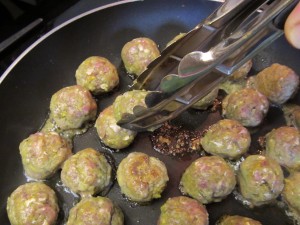 Once all meatballs are browned on all sides, transfer to a large pot. Also add to pot, ground walnuts and onion. (If making vegan, do not add this to meatballs, simply prepare as a soup).↓
Add three cups water to pot, stir gently, heat to boiling, lower temperature, and simmer for about one hour (stirring occasionally), with lid cracked open
to allow steam out.↓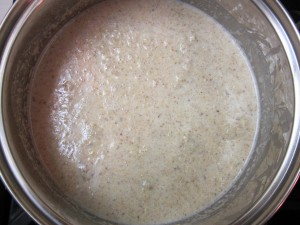 After simmering for one hour, pour in pomegranate molasses and sugar. Simmer for one more hour (stirring occasionally). The stew will thicken and darken the longer it cooks. It will thicken even more
when removed from heat.↓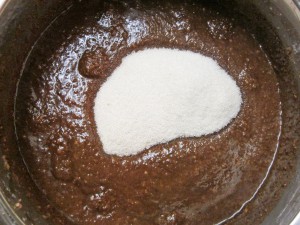 Here is the nut-burger version: Omit all the seasonings listed in this recipe and replace with 1/8 tsp. cinnamon, 1/4 tsp. turmeric, and a pinch of saffron. Roll into balls. Heat in a pan with olive oil, until browned on all sides. Add nutmeat-balls to walnut-onion-pomegranate soup-mixture, just before serving. (If the nutmeat-balls are added too soon, they will break down into the stew.)↓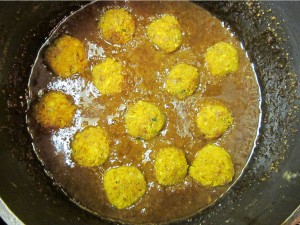 Vegan version. Click for nutmeat recipe.↓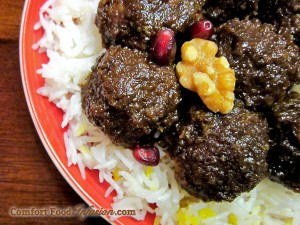 Pomegranate Walnut and Meatball Stew
2013-04-18 00:49:20
A delightfully unique sweet and sour stew. A classic Persian comfort food.
Ingredients
4 cups cooked basmati rice (about 2 cups uncooked)
1 pinch saffron, crushed and soaking in 1 Tbsp. water
1 lb ground beef
4 cups walnuts
2 onions (one for meatballs one for stew base)
1/2 tsp. turmeric
1/4 tsp. cinnamon
1/4 tsp. garlic powder
1/2 tsp. salt
1/4 tsp. pepper
3 cups water
1 cup pomegranate molasses*
1 cup sugar (adjust this to taste)
Directions
In a food processor, grind walnuts until a coarse to fine meal. Remove to a bowl.
Rinse out food processor bowl, and grind both onions to a coarse puree. Separate the onions into two equal portions.
In a large bowl, combine ground beef one portion of ground onion, turmeric, cinnamon, garlic powder, salt and pepper. Using your hands blend together.
Using your hands, roll ground beef mixture into about 1 1/2 inch balls and place in a large frying pan. Cook meatballs until they are light brown on all sides.**
Transfer browned meatballs to a large pot. Add to the pot, the second portion of the ground onion, ground walnuts and 3 cups water. Bring to a boil. Reduce heat. Simmer, stirring occasionally, for one hour (leave lid half on, so that steam can escape).
This is a good time to prepare rice, according to package directions.
After one hour of simmering the meatballs, walnuts and onion, add pomegranate molasses and sugar. Simmer, stirring occasionally, for one more hour (with lid half on).
Stew will thicken and darken as it cooks. You can add more water if you like it thinner or soupier. When you remove stew from the heat, it will thicken further.
Pour cooked rice onto a large serving plate, or into a large serving bowl. Top rice with saffron water.
Pour meatball stew into a second large bowl.
Serve rice and stew alongside one another.
Notes
*Pomegranate molasses can be found at Mediterranean or Iranian markets. It is usually quite sour, but sometimes on the sweet side. Adjust the amount of sugar you use to your liking.
**While cooking the meatballs, don't be alarmed by the temporary green color. This is caused by the turmeric, and the green will disappear once fully cooked.
Adapted from from my dear Mother-in-law
Adapted from from my dear Mother-in-law
Comfort Food Infusion https://comfortfoodinfusion.com/