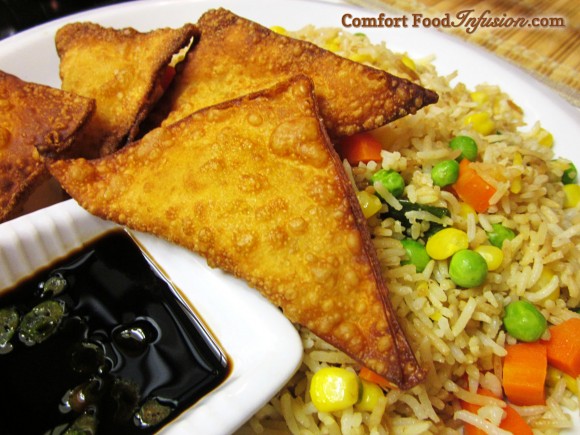 Yesterday, I posted Fried Rice and mentioned that you needed to serve it with my won-tons. Of course you don't need to, but they complement each other so well, and together they make a delicious Chinese-inspired meal. They are great as appetizers or snacks as well.
These won-tons are on the top of my comfort foods list. My mother made them when I was growing up and it was one of the family's favorite meals. These were the main dish – no rice – no other sides – just these. Mom and Dad would probably also have their dinner salads, but my sister and I filled our little bellies with these alone. The original recipe actually called for canned tuna. I loved the tuna version, but my family looked at me cross-eyed when I brought up the idea of serving won-tons with canned tuna. Therefore, I substitute the tuna with chicken when I make them today. I simply boil a small breast of chicken with some seasonings and shred it. They are a wee bit time consuming, as they must be filled and folded individually, but it's simple. The frying goes pretty quick though. Make a bunch of these and store them in the refrigerator, they actually re-heat nicely in the oven.
See the images of prep below. Scroll down for recipe.↓
This is a brand I commonly use. It doesn't matter though. You could also use the round size, if you prefer.↓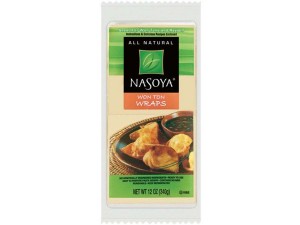 Wet one corner of wonton wrapper with water. Add a heaping teaspoon of filling to center, and fold and press to close.↓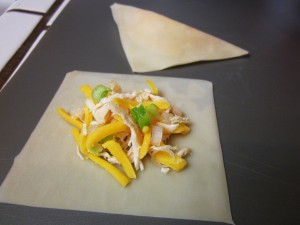 Fry wontons (3 or 4 at a time) in hot oil for about 30 seconds, or until the edges begin to brown.↓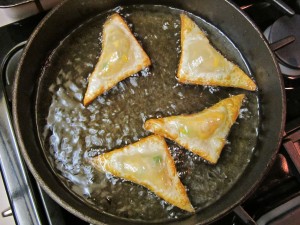 Using tongs, flip wontons over and fry for another
20 seconds or so.↓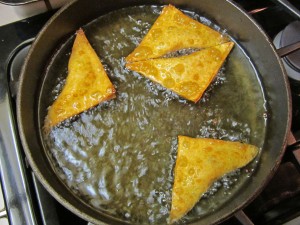 Remove to a plate or tray lined with
paper towels, to drain.↓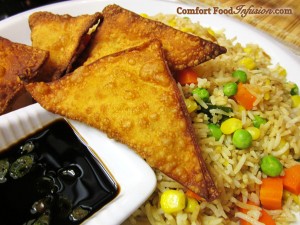 Won-tons
A perfectly fried pouch filled with chicken (or tuna), cheddar, water chestnuts, and green onions. Serve alone, as an appetizer, or with my fried rice for a delicious meal.
Ingredients
Ingredients
1

small

or half of a large breast of chicken, boiled*

1

package

12 oz. wonton wrappers

1

can

8 oz. sliced water chestnuts, chopped

2/3

cup

green onions

chopped

1

cup

shredded cheddar cheese

2

inches

of canola oil

for frying

soy sauce

for dipping
Instructions
Directions
Boil (simmer) chicken with your choice of seasonings (such as: ginger, garlic, salt, pepper and soy sauce). Once cooked and cooled, shred chicken and place in a medium sized bowl.

Finely chop the water chestnuts and green onions. Add to the bowl with the chicken.

Add shredded cheddar cheese to bowl and mix well to combine all ingredients.

Prepare working area- with a shallow bowl of water, a cutting board or other surface for folding, and a tray or cookie sheet for lining up folded wontons.

Take a single wonton wrapper and dip a corner (half of the wonton) in water, then place on your work surface.

Pile a heaping teaspoon of the filling into the middle of the wonton wrapper, fold over carefully, and press the edges to seal. Place filled wonton on a tray or cookie sheet.

Repeat for all wontons.

In a shallow pot, or fry pan with tall sides, heat two inched of canola oil over medium-high heat. You know when your oil is hot enough when you drop a small piece of wonton in the oil and it instantly floats to the top, sizzling.

Fry wontons in hot oil, three or four at a time (don't crowd). Fry on one side for about 30-40 seconds or until the edges turn golden brown. Flip wontons over using tongs, and fry on flip side for another 20-30 seconds or so.

Remove wontons to a large plate or tray, lined with paper towels.

Serve hot, with soy sauce, if desired.
Notes
*You can use 2 cans (6.5 oz. ea) of tuna (very well drained) in place of the boiled chicken.
*To boil the chicken breast- I use 1 inch slice of fresh ginger, 1 large clove of garlic, 1 Tbsp. soy sauce, salt and pepper in the water, which I simmer (not a rolling boil) for about 20-30 minutes.
*You can also use store bought, roasted chicken.
Tips for keeping them warm (especially if your making a large batch): Place won-tons on an oven-safe tray lined with paper towels (the paper towels are safe if not left in the oven too long) in a 200° F oven while preparing the rest. This way they will all be hot when served.
Tips for reheating: To maintain their crispiness, place on a cookie sheet, (or even better- a wire rack with a cookie sheet below it) heat in oven or toaster oven set to 250° to 300° F for about 5 minutes or until you see them begin to sizzle.
Tips for making them ahead: You really DO need to fry the won-ton as soon as you fold them. If they are let to sit, raw, they will get soggy and rip open when handled. Prepare the won-tons and fry them. If you want to serve them later, reheat in the oven according to directions above.
Adapted from My Dear Mother