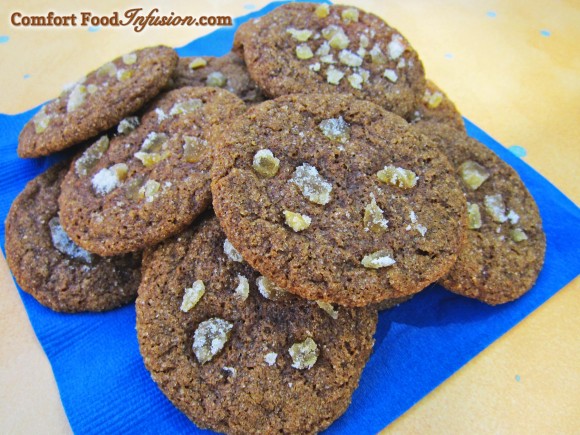 I baked another gluten free goodie! Gingersnaps, gingerbread cookies and gingerbread cake are some of my very favorite sweets. I love the flavor of molasses. I eat spoonfuls of it at a time. No joke. It's not a surprise that this recipe is one of my favorite gluten free baked goods. I top these wonderful chewy cookies with candied ginger pieces. They are a little strong, so you could omit them if you wish. I love the spicy bite of the ginger. Other than being super tasty, the addition of the candied ginger make these cookies great snacks for road trips. Ginger aids against motion sickness and nausea, and our car's upholstery thanks us for bringing them on the road in the past. Recipe Below.↓
Chop candied ginger into small pieces.↓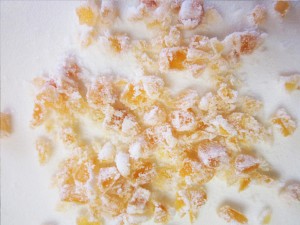 In separate bowls, mix the wet ingredients and
the dry ingredients.↓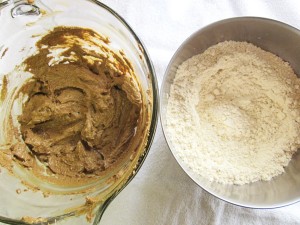 Add dry ingredients to wet. Chill in refrigerator
for easier handling.↓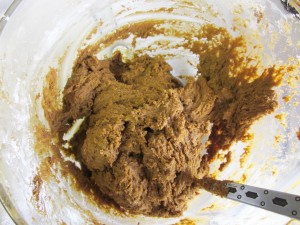 Using your hands, roll into 1 inch balls,
and roll in sugar to coat.↓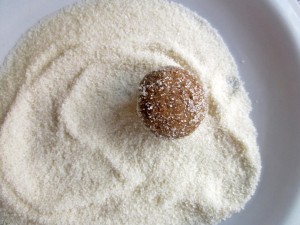 Place on cookie sheet, spaced 2 inches apart. Top each with candied ginger. Bake for 6-8 minutes at 350°F↓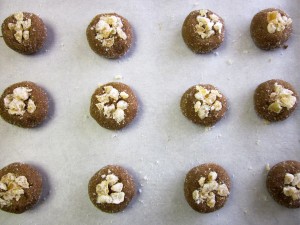 You may omit the candied ginger if you wish.↓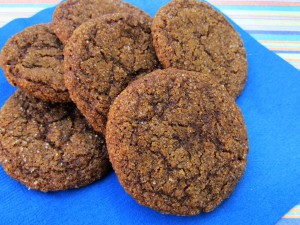 Gluten Free Ginger Chews
2013-04-12 22:51:39
A perfectly chewy molasses cookie, topped with candied ginger. Makes 3 to 4 dozen cookies.
Ingredients
3/4 cup butter, softened
1 cup sugar, plus some for rolling
1/4 cup molasses
1 egg
2 cups all-purpose, gluten free flour mix
1/4 cup cornstarch
3/4 tsp. xanthan gum
2 tsp. baking soda
1 tsp. cinnamon
1/2 tsp. ginger
1/2 tsp. cloves
3 Tbsp. candied ginger pieces, chopped (omit if desired)
Directions
Heat oven to 350°F
With a knife, chop candied ginger into small pieces. Set aside.
In a large bowl, cream butter, sugar, molasses and eggs.
In a medium bowl, combine, flour, cornstarch, xanthan gum, baking soda, cinnamon, ginger and cloves.
Pour dry ingredients into wet. Refrigerate for an hour, for easy handling.
Using your hands, roll chilled dough into 1 inch balls, and roll into granulated sugar.
Place about 2 inches apart on a cookie sheet.
Top each cookie with chopped candied ginger.
Bake for 6-8 minutes. (Baking longer makes a crisp cookie, cooking less time makes a chewy cookie).
Cool on wire racks.
Comfort Food Infusion https://comfortfoodinfusion.com/