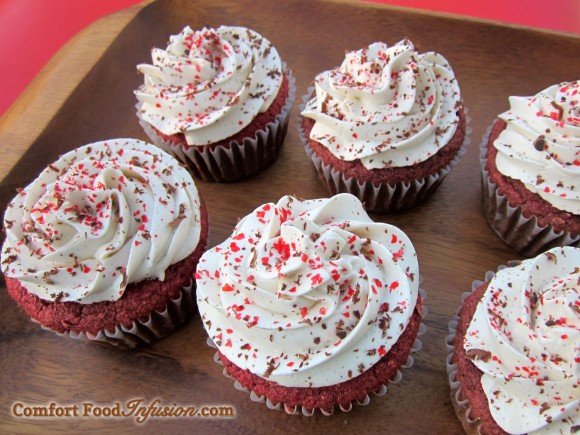 Did you know that Red Velvet Cupcakes were traditionally colored with beets? Yup! I've heard varying reasons for why the use of beets in cake even originated. One theory is, that beets served to sweeten cakes when sugar wasn't readily available. Another idea is, they were used for their moistening properties. It's also possible that the beets simply provided an appealing color. Now-a-days, Red Velvet Cake is simply about the red color, and the original beet is not often used. The most popular way to color them is with red food coloring… like TWO OUNCES worth! Can you believe that? Many of you may also know that food coloring, especially red, is known to be very harmful to our health. Some red dyes contain carcinogens, and studies have also linked this artificial dye to hyperactivity and ADHD in children. Well, enough of the heavy….. I simply wanted to make a cupcake that I was sure my family would enjoy, and I wanted to try to make it with natural ingredients. Short story, it was a success!
You will notice some rather unusual ingredients in this cake, such as vinegar and lemon juice (the buttermilk… not so unusual). Those acidic items are in there for a reason: to keep as much of the red color as possible. You will notice that the batter starts bright reddish-purple, but will fade to almost a brown color after baking. The key is to use acidic ingredients to maintain the red of the beets (such as, an apple browns less, or slower when adding lemon juice). The type of vinegar used may cause a variance as well.
On another note… I discovered a new combination of gluten free flours that I am very happy with. It is a blend of several different flours… not a pre-mixed bag. I often shop at WinCo supermarket, which has a vast selection of flours in it's bulk bin area. I am able to select many flours, at any quantity I want, and all at an excellent price. So, after surfing the web, and doing some math to figure out popular ratios of 'whole grain' to 'white' gluten free flours, I came up with the potion used here. You could use any store bought, pre-mixed GF flour that you wish. Or, you could simply use wheat flour at the exact same measurement (2 cups flour). Scroll down for cupcake recipe.↓
Roast beets in a baking dish for 50-60 minutes.↓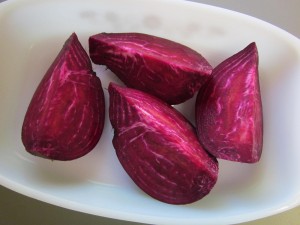 Beets are done when knife pierces flesh easily.↓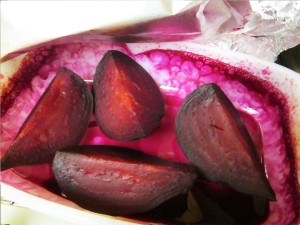 Puree roasted beets with apple sauce.↓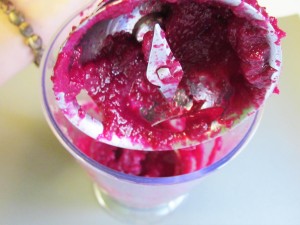 Sift dry ingredients into wet, and mix well.↓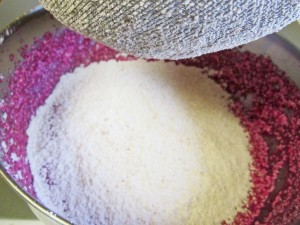 Fill muffin cups 3/4 full.↓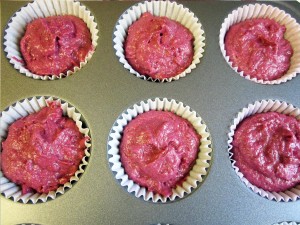 Top with butter cream (or cream cheese) frosting. Sprinkle with shaved chocolate and sprinkles (if desired). It occurred to me after decorating them, that the sprinkles contained red dye…. my bad.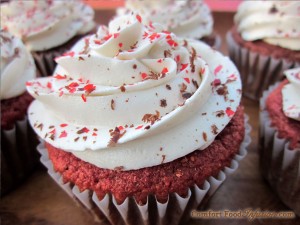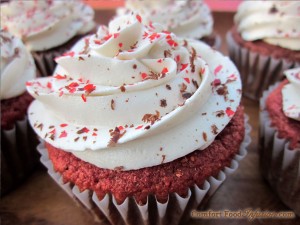 Natural Red Velvet Cupcakes
Gluten free cupcakes made with roasted beets in place of artificial red dye. Makes 24 cupcakes.
Ingredients
Ingredients for Cupcakes
1

large

or 2 to 3 med-small beets

1/2

cup

applesauce

1/2

cup

butter

softened

1 1/2

cups

sugar

2

eggs

1

tsp.

vanilla extract

1

Tbsp.

lemon juice

1

tsp.

vinegar

3/4

cup

buttermilk

2

cups

regular or gluten free flour mix *

recipe for GF mix below

4

Tbsp.

cocoa powder

1 1/4

tsp.

baking powder

1

tsp.

xanthan gum

1

tsp.

salt

semi-sweet chocolate bar

for shaving
Ingredients for Butter Cream Frosting
1/2

cup

shortening

1/2

cup

margarine

or butter, softened

3 1/2

cups

powdered sugar

1 1/2

teaspoons

vanilla extract

1/4

cup

milk
Instructions
Directions for roasting beets
Scrub beets. If using large, cut them into quarters.

Preheat oven to 400º F. Fill a small roasting dish with 1/2 inch of water. Add beets to dish, and cover tightly with foil.

Roast for 60 minutes, or until a knife can easily be inserted into the flesh. Set aside to cool.
Directions for preparing frosting
With an electric mixer, beat butter or margarine and shortening until fluffy. Add powdered sugar, vanilla and milk, beat again until well mixed and fluffy. Store in refrigerator while preparing cupcakes.
Directions for cupcakes
In a blender or food processor, add apple sauce and cooled, roasted beets. Blend until pureed.

In a large bowl, combine butter and sugar. Blend with an electric mixer for 1 minute. Add the eggs to butter/sugar, and blend for 1 more minute. Add applesauce/beet puree, vanilla, lemon juice, vinegar and buttermilk, blend for 1 more minute.

In a medium bowl, combine flour, cocoa powder, baking powder, xanthan gum and salt. Mix well.

Place a sifter over large bowl containing wet ingredients. Sift dry ingredients over wet. Stir until well mixed.

Spoon batter into muffin tins lined with muffin cups, about 3/4 full. Bake for about 30 minutes, or until toothpick inserted into center comes out clean.

Cool to room temperature and then frost.

Using a cheese grater, grate chocolate bar over cupcakes as a garnish. You can also add sprinkles if desired.

Serve at room temperature. Store in refrigerator.
Notes
*Recipe for gluten free flour mix:
1/3 cup tapioca starch
1/3 cup corn FLOUR
1/3 cup brown rice flour
1/4 cup + 1 Tbsp. potato STARCH
1/4 cup + 1 Tbsp. white rice flour
3 Tbsp. corn STARCH
2 Tbsp. coconut flour
You can make large batches of this, store in a large container and use, cup for cup, in any recipe that calls for regular flour.