I like to make food from scratch whenever possible. The word 'scratch' is used loosely, of course . The recipe uses canned products, but as a busy mom, I can take the help from convenience foods every once in a while. As I sought out an enchilada sauce recipe that I could make from' scratch', I discovered that many recipes started out with a roux (butter/flour mixture). I am trying to cut back on gluten, so I substituted the wheat flour for brown rice flour when I made my roux. End result: this is the BEST enchilada recipe I have ever made! The family agreed, they all wanted seconds! There is a little prep involved in this dish, but it goes pretty quickly and is super easy. Consider making a double batch and freezing some. This is an easy make-ahead recipe as well, just store it in the refrigerator until you are ready to bake it. I served ours with a side of Rice Cooker Mexican Rice. I added pictures of a couple steps of the prep. Scroll down for the recipe.↓
Start with heated/softened corn tortillas.
Click here for a how-to.↓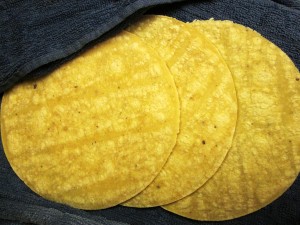 Dip warmed tortillas into enchilada sauce.↓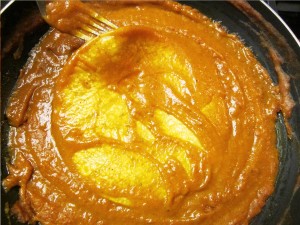 Fill tortilla with about 1/4 cup chicken-cheese mixture.↓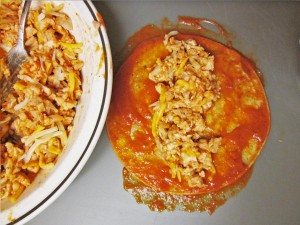 Roll up enchilada and place in baking dish.
Repeat about 7 to 9 times.↓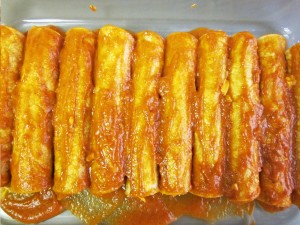 Sprinkle top of enchiladas with cheese. Bake uncovered,
at 350° F for about 25 minutes.↓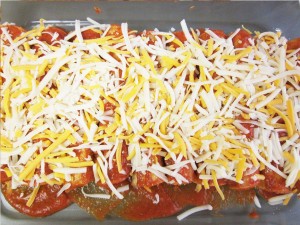 Serve with a side of Mexican Rice!↓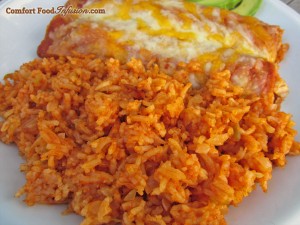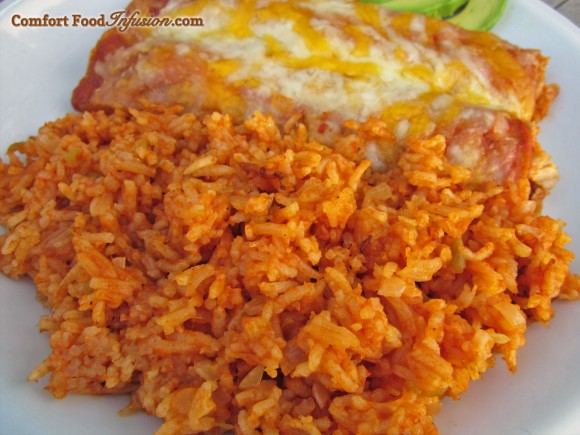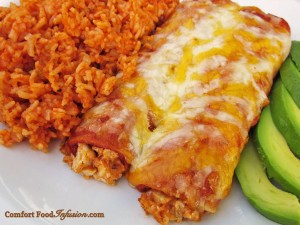 Chicken Enchiladas
Delicious enchiladas made from scratch (for the most part)! This can be made with regular or gluten free flour. Serve with a side of Mexican Rice.
Ingredients
Ingredients
2

medium sized chicken breasts

*cooked and shredded

1/4

cup

butter

1/4

cup

brown rice flour

or regular flour

1

cup

chicken broth

1- 15

oz.

can tomato sauce

1

Tbsp.

chili powder

1

tsp.

cumin

1/2

tsp.

garlic powder

1/4

tsp.

dried oregano

salt and pepper

to taste

2

cups

shredded cheese

cheddar-jack

8-10

corn tortillas
Instructions
Directions
In a large, shallow sauce pan over medium heat, melt butter.

Add to butter, brown rice (or regular) flour. Stir constantly, for about three minutes to cook the flour, creating a roux.

Add to the roux, tomato sauce, broth, chili powder, cumin, garlic powder, oregano, salt and pepper. Stir well to mix.

Bring sauce to a slight boil, then reduce the heat and allow to simmer for about 15 minutes.

Remove sauce from heat and allow to cool enough to be able to dip and handle tortillas.

In a large bowl, combine cooked, shredded chicken, 1 cup shredded cheese, and 1/2 cup enchilada sauce.

Pre-heat oven to 350° F.

Heat the corn tortillas in batches (about 3 at a time), by wrapping them in a damp towel and microwaving them for about 30 seconds.

Using one tortilla at a time- dip tortilla in enchilada sauce, making sure both sides are coated with sauce. Lay tortilla on work surface.

Place about 1/4 cup chicken-cheese mixture into the center of coated tortilla. Roll up and place in a 9 x 12 baking dish, sprayed lightly with cooking spray.

Repeat 7 to 9 more times, to fill the dish.

If any enchilada sauce is remaining, pour over enchiladas.

Top enchiladas with 1 cup shredded cheese.

Bake, uncovered for about 25 minutes, or until cheese is well melted and enchiladas are heated through.
Notes
* I prepared my chicken breasts by boiling (poach- at a low heat) them with a little cumin, garlic powder, salt and pepper. I simmer the breasts over a low heat for about 1/2 hour.