Three things inspired this dessert recipe: my mom's Eclaire Cake, this organic banana pudding I found at Sprouts, and my love of banana splits, of course. If you have ever had eclair cake, you might be familiar with how the graham crackers turn a little soggy from sitting in the pudding, and they take the place of the delicate puff pastry shells of a traditional eclair. The softened crackers fool the palate quite well. If you desire, graham crackers can be found gluten free. When you make this, you can use cool whip, but I used heavy whipping cream. Furthermore, fruit preserves or sundae toppings can be used in place of fresh fruit. Next time you're in the mood for a banana split, but want to mix things up a bit… or you just don't want your dessert to melt quickly in the heat, whip these up instead! Scroll down for recipe.↓
Prepare the ingredients for your parfait layers: banana pudding/whipped cream mixture, graham crackers and fresh fruit (or preserves). ↓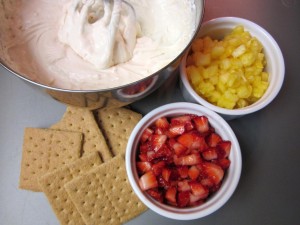 Crumble graham crackers into bottom of parfait cups
(I made six medium sized parfaits).↓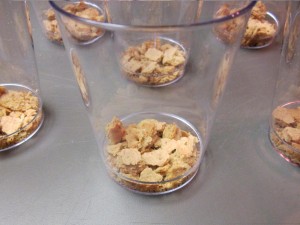 Fill a pastry piping bag or large zip-lock-type bag with all of the pudding/whipped cream mixture.
This is the easiest and cleanest way to
fill the cups with the mixture.↓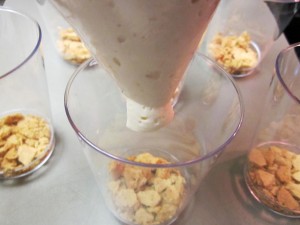 Fill cups about 1/4 full with mixture.↓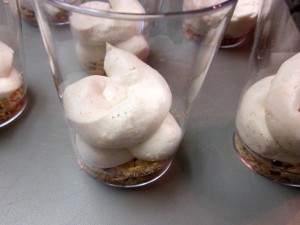 Using the back of a spoon, flatten and smooth the mixture.↓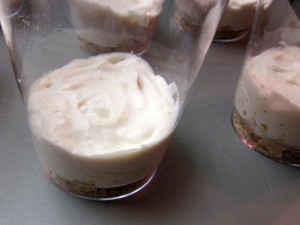 Next layer is the strawberries. Just spoon these in.↓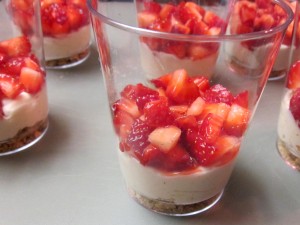 Next comes another layer of crumbled graham crackers, followed by another layer of pudding mix, a layer of pineapple, and a third layer of crumbled graham crackers. After the crackers, use a glass to gently press the mixture down a little.↓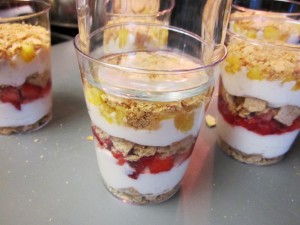 Finally, add a third layer of pudding mix, flatten with the bottom of a spoon, and top with a generous squirt of chocolate syrup.↓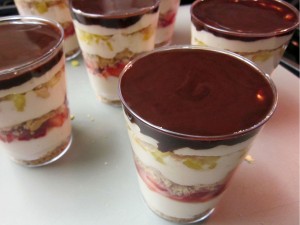 For best results, store these in refrigerator for a few hours, so the crackers can soften. You can store them over night as well. When ready to serve, top each with a dollop of whipped cream and a maraschino cherry.↓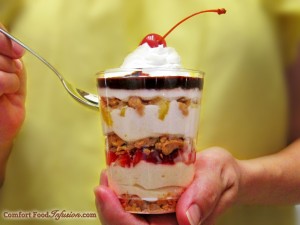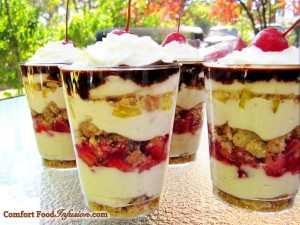 Banana Split Eclair Parfait
Banana pudding and fresh fruit come together to make a delicious non-melting treat! Makes 6 - 8 parfaits, depending on size (I made 6 large/medium ones).
Ingredients
Ingredients
1- 3.4

oz.

box banana pudding

3/4

cup

heavy whipping cream*

6-8

whole graham crackers

crumbled (gluten free are available)

1 1/2

cup

*strawberries

diced

1 1/2

cup

*pineapple

diced

few tablespoons sugar

for cream and fruit

1/2

tsp.

vanilla

1/2

cup

or more chocolate syrup

whipped cream

for garnish

maraschino cherries

for garnish

chopped nuts

if desired, for garnish
Instructions
Directions
Prepare pudding according to package directions. If cooked, allow to cool, with plastic wrap over the surface to prevent a film from forming on top of pudding.

With an electric mixer, combine heavy cream with one tablespoon sugar and 1/2 tsp. vanilla. Whip until light and fluffy.

When pudding is cool, add whipped cream and beat with electric mixer, once again, until well mixed and a little fluffy.

Chop strawberries and pineapple and place in separate bowls. To each fruit, add a tablespoon of sugar and mix gently.

Transfer pudding mixture into a frosting piping bag or large zip-lock-type bag. Cut a hole out of the corner of the bag.

Prepare your work surface, with pudding/whip cream mixture, graham crackers and chopped fruit.
In each cup or bowl layer in this order:
Graham cracker crumbles,

Pudding/whip cream mixture (pipe it in, then flatten and smooth with back of a spoon),

Strawberries (spoon them in),

Graham cracker crumbles,

Pudding/whip cream mixture,

Pineapple,

Graham cracker crumbles (gently compress/flatten all layers down with the bottom of a glass),

Pudding/whip cream mixture.

Complete the layers with a healthy squirt of chocolate syrup.

Place in refrigerator and let chill for at least four hours (or overnight), so the graham crackers will soften.

When ready to serve, add a dollop of whipped cream and top with a cherry. (Top with nuts if desired). Serve immediately.
Notes
*Notes:
Instead of whipping cream, you can use a small tub (8 oz.) of Cool Whip topping.
Instead of fresh fruit, you can use preserves or sundae toppings.