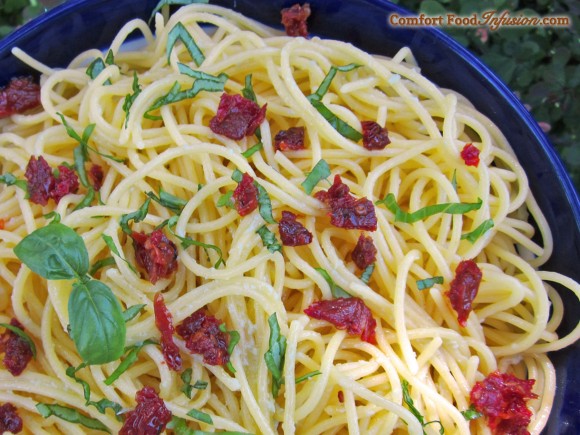 How often do you open a cupboard or pantry door, and think. There is nothing to eat. I do it all the time. How many of those times do you truly have plenty to eat, you just don't want to put any effort into preparing something? *raises hand* Maybe, you just don't know how to be creative with the ingredients you have on hand. If I were in Vegas, I would put money on the likelihood that you have in your kitchen, a package of pasta or noodles, a stick of butter or margarine, oil, and garlic or garlic powder. See! You have Hot Buttered Noodles! It might sound plain, but I think it's delicious. Furthermore, you can grab random condiments and herbs to top your noodles for a little more flavor: sun-dried or fresh tomatoes, olives, artichoke hearts, mushrooms, onions, cilantro, basil…. the possibilities go on and on. Next time you have the munchies, or are looking for a substantial meal, boil a pot of pasta and 8 minutes later, you have a home-cooked dish! Voilà!
While the pasta was boiling, I sauteed a little fresh garlic in olive oil↓, then added some butter at the end. (You could simply melt butter over hot noodles and
sprinkle with a little garlic powder.)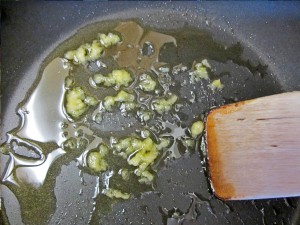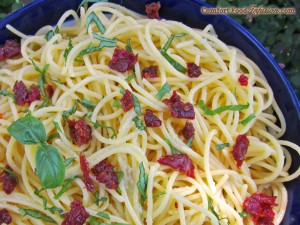 Hot Buttered Noodles
Quick, easy and comforting. Noodles topped with butter, garlic, and anything else that strikes your fancy!
Ingredients
Ingredients
8

oz.

package of pasta

I used corn -gluten free- spaghetti

1

Tbsp.

olive oil

1-2

cloves

of garlic

minced (or 1/4 tsp. garlic powder)*

1/4

cup

butter or margarine

vegan if preferred

Any desired garnishes

such as: sun dried tomatoes, chopped basil, etc.
Instructions
Directions
Bring a large pot of water to a boil and add pasta. Boil according to package directions.

While pasta is boiling, heat olive oil in a small fry pan over medium heat. Add minced garlic and heat, while stirring constantly, for a few minutes. (If garlic turns green, don't be alarmed, it just means it wasn't fully ripe). Add butter to garlic/oil and melt completely.

When pasta is done, drain well and pour into serving bowl(s). Pour garlic butter over pasta. Give a gentle toss. Top with garnishes or serve plain.
Notes
If using garlic powder, you can omit the olive oil as well. Simply melt butter over the hot pasta and sprinkle with garlic powder.