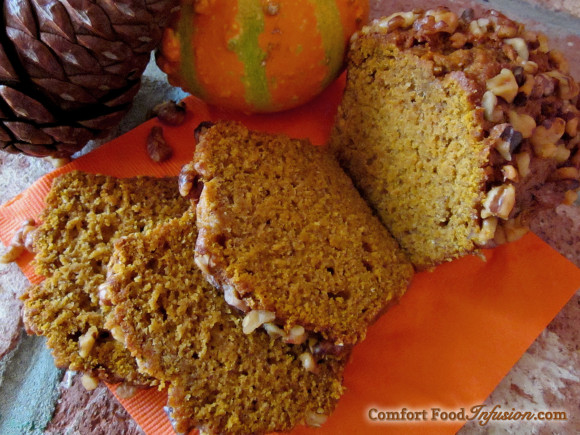 Perfect for this time of year. This recipe is one that "copycats" Starbucks' pumpkin bread. But, you know what makes it even better than theirs? It can be made gluten free! I recently tweaked my GF flour recipe to include oat flour, and I think it is my favorite so far. I love how I can use it in place of regular flour in any recipe and it swaps out perfectly. I topped mine with walnuts, but a classic nut topping would be shelled pumpkin seeds. Let this fabulous recipe be one that you make at least once this holiday. You won't stop at once though. 😉
Pumpkin Bread
2013-11-26 17:24:34
This recipe mimics Starbucks' pumpkin loaf, but can be made gluten free.
Ingredients
1 1/2 cups flour (see below for gluten free↓)
3/4 cup sugar
3/4 tsp. salt
1 tsp. baking soda
1 tsp. xanthan gum (for gluten free)
1/2 tsp. nutmeg
1/2 tsp. cinnamon
1/4 tsp. allspice
1/4 tsp. ground cloves
1/4 tsp. cardamom
2 eggs
1 cup canned pumpkin
1/2 cup canola oil
1/2 tsp. vanilla
pumpkin seeds or walnuts for topping
Directions
Heat oven to 350°
In a large bowl combine flour, sugar, salt, baking soda, salt, spices, and xanthan gum (if using). Stir well to mix.
In a separate medium bowl, mix together eggs, oil, canned pumpkin, and vanilla. Add wet ingredients to dry ingredients and stir well, until the batter is smooth, but do not over mix. .
Pour into a 9" x 5" loaf pan that has been sprayed with non-stick spray, and sprinkled with a little flour. Sprinkle pumpkin or walnut seeds on top of bread.
Bake at 350° for 50 to 60 minutes, or until a toothpick comes out clean when inserted into the center of loaf.
Remove from oven and cool for about five minutes, and then remove the pumpkin bread to a cooling rack.
Allow bread to cool completely before slicing.
Notes
Visit https://comfortfoodinfusion.com/gluten-free-flour-mix/ for my gluten free flour mix. The version used in this recipe is the oat flour version. It is best to make a large batch of the flour and measure out the 1 and 1/2 cups needed for this recipe.
Comfort Food Infusion https://comfortfoodinfusion.com/