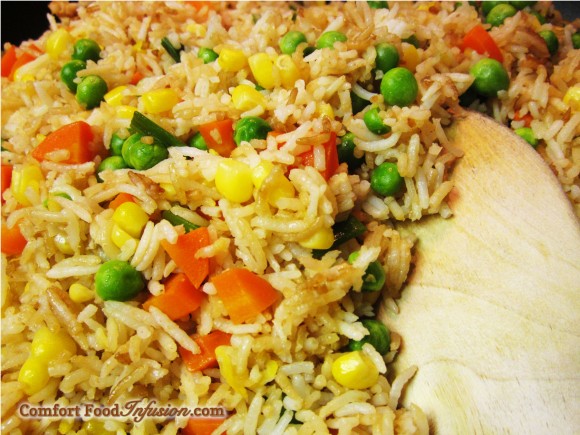 I used to use a seasoning packet whenever I made fried rice. The whole family really likes it, so I made it a lot. As I slowly became more conscious of what I was feeding my family, it occurred to me that the seasoning I was using also contained MSG and other ingredients I did not want to feed my family. Turns out my version tasted so much better and was just as easy. There is only one thing that makes this recipe a little time consuming…. it HAS to be served with my wontons. It's a must! I will post the recipe for my wontons tomorrow, so on Wednesday you will be able to prepare a Chinese meal fit for a King, or yourself, your loved ones, or the animals who invade your kitchen and rob you of all your food. Regardless of who eats the meal, they will be comforted, as I am, just thinking about this delicious fare.
Stay tuned tomorrow, for wontons, which will
complete this perfect meal.↓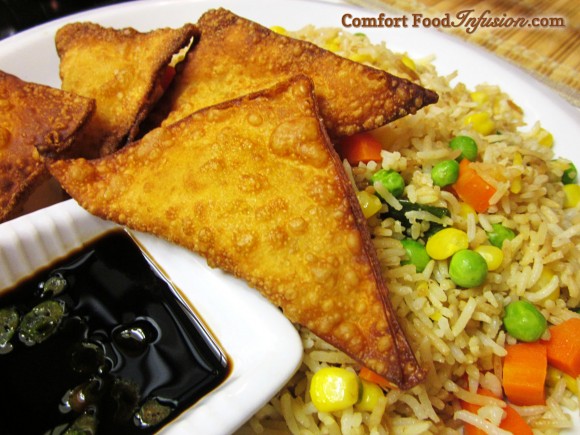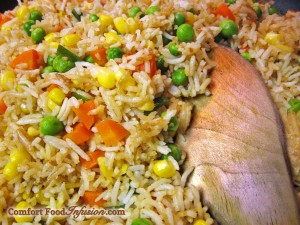 Fried Rice
Classic Chinese Fried Rice. Simple and delicious. Serve with my wontons!
Ingredients
Ingredients
4

cups

cooked white rice

such as Jasmine (about 2 cups uncooked)

4

stems green onion

chopped

1

Tbsp.

canola oil

1 1/2

cups

diced carrots

1 1/2

cups

peas

fresh or frozen, thawed

1 1/2

cups

corn

fresh or frozen, thawed

1/8

tsp.

ground coriander*

1/8

tsp.

ground ginger*

1/4

tsp.

garlic powder*

1-2

Tbsp.

soy sauce

gluten free or tamari if necessary*
Optional Ingredients (non vegan)
2

eggs whipped with 1 Tbsp. milk

for scrambled eggs

1 1/2

cups

cooked chicken or pork

diced.
Instructions
Directions
Prepare rice according to package directions.

Dice fresh carrots and give them a quick steam or boil, just to soften them a tiny bit. (I steam them for about two to three minutes).

In a very large fry pan or wok, heat canola oil over medium high heat. Add to the hot oil, the chopped green onions and all of the rice. Cook/fry the onions and rice, while stirring frequently, for about five minutes, or until the green onions begin to wilt a little. Add to the rice, the par-cooked carrots, corn and peas (add cooked chicken or pork now, if using). Give a good stir to mix. Add coriander, ginger, garlic powder, and soy sauce. Stirring frequently, continue to cook for about five to ten minutes, or until rice and vegetables are heated through.

Serve.

If you are adding scrambled egg (this would be the last step)- beat egg and milk in a bowl until thoroughly blended. Push rice/vegetables over to one side of the pan, spray with a quick spray of non-stick oil, and fry/scramble eggs right there in the same pan. Once eggs are cooked through, stir into the rice and serve.
Notes
*I don't like a whole lot of seasoning in this dish. You can adjust the seasonings, increase or decrease them to your liking.