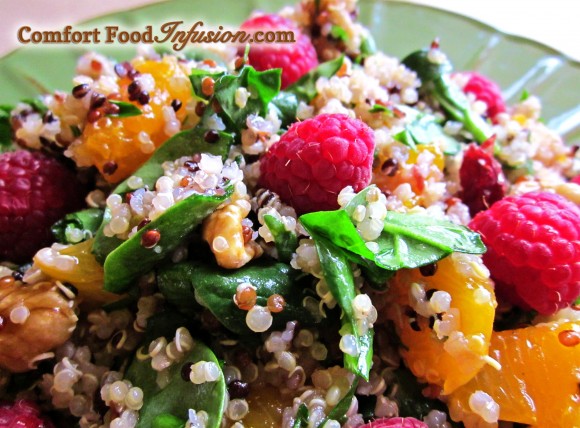 If you have visited my About page, you read that I am trying to adopt a healthier diet. Well, my first post, Cornish Pasties isn't exactly 'healthy'. Delicious? Yes. Healthy?… Meh. Sure, it was prepared from scratch (for the most part) but the recipe does contain ingredients that I am trying to cut back on. Approximately 90% of the foods I am eating are meat, gluten and refined sugar free. Here is an example of a 'super foods' recipe that satisfies my healthy cravings. I came up with this recipe when I was enjoying a container of Raley's deli quinoa salad. I have infused my favorite Raspberry Spinach Salad recipe with Trader Joe's tri-color quinoa, and I must say, they make a perfect mix!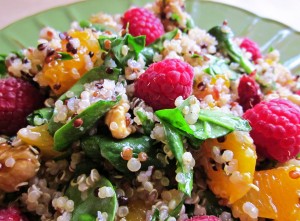 Quinoa Spinach and Raspberry Salad
Spinach salad with raspberry vinaigrette, paired with quinoa to create a wonderful blend of super foods.
Ingredients
Ingredients for Salad
1

cup

tri-color

or any quinoa

2

cups

water

1/4

tsp.

salt

1

Tbsp.

sliced green onion

1- 11

oz.

can mandarin oranges

drained (or four fresh, peeled and sectioned)

4

oz.

baby spinach

use half of an 8 oz. bag, roughly chopped

1/2

cup

dried cranberries

1/2

cup

chopped walnuts

2/3

cup

fresh raspberries

strawberries work too

handful of cilantro or parsley

chopped, for garnish
Ingredients for Raspberry Vinaigrette dressing
1/3

cup

canola or vegetable oil

3

Tbsp.

red wine vinegar

3

Tbsp.

raspberry jam

I like it with seeds

1/2

tsp.

Dijon mustard

1

tsp.

agave syrup

or sugar

dash of salt and pepper
Instructions
Directions for Quinoa
Rinse quinoa in a fine-mesh strainer. Bring water to a boil in medium saucepan. Stir in quinoa and salt. Reduce heat; cover. Simmer 10 to 15 minutes or until water is absorbed and quinoa is fluffy. Transfer to bowl. Cool to room temperature. While quinoa is simmering, chop salad ingredients and set aside.
Directions for Vinaigrette
Pour all of the vinaigrette ingredients in a small container or jar with a tight fitting lid. Give the jar a really good shake to mix well.
Directions for Salad Assembly
Combine cooked, cooled quinoa with all other salad ingredients, except raspberries and parsley/cilantro. Pour vinaigrette over the top and stir gently to combine. Serve on individual plates (or in bowls) and top each with a handful of raspberries and garnish with parsley or cilantro.