I'm a big fan of jello recipes. Not plain jello….. layered jello, jello with marshmallows, jello with whipped cream and all sorts of indulgent add-ins. I even like fruit mixed in… sometimes… depends on the fruit… and my mood. 😉 Jello reminds me of childhood, and I feel like a kid when I'm eating it. Naturally, nostalgic memories create child-like cravings. Three holidays come to mind when I think of fun jello recipes: Easter, 4th of July, and Thanksgiving. As you can probably tell, I made these for the 4th of July. This recipe uses yogurt in the white layer, instead of sweetened condensed milk. I personally like the flavor of the vanilla yogurt much more than the flavorless milk. I also really like the fact that the yogurt is healthier. This would make a great treat for a kid's birthday party, use any of your child's favorite colors. You can use almost any cookie cutter (the fewer the layers, the better for cookie cutters), or simply slice them into squares. The recipe (scroll down) lists ingredients for the colored jello, and ingredients for the white layer. Use as many of each layer that you wish, depending on your level of patience and how much time you have on your hands. LOL! Don't be afraid, it's very simple, just follow the directions and tips closely, it's just repetition.
Sprinkle unflavored gelatin over cold water. In a seperate bowl, combine vanilla yogurt with boiling water.↓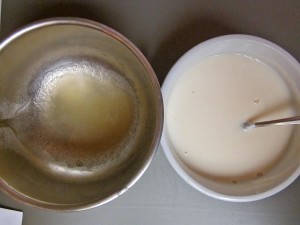 Add boiling water to unflavored gelatin.↓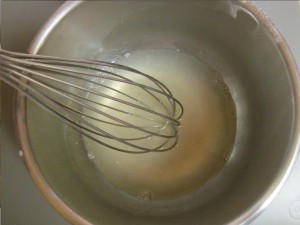 Stir yogurt mixture into dissolved, unflavored gelatin.↓
Set aside, at room temperature.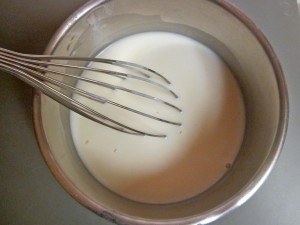 Prepare regular flavored jello with one packet of unflavored gelatin. Pour into a 9 x13 inch dish (sprayed with a little non-stick spray) and let set up in the freezer for about 15 minutes. Make sure you have a flat surface.↓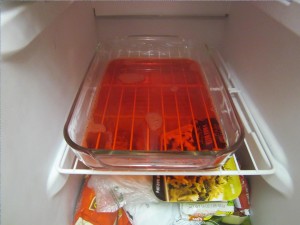 Use a spoon as a 'buffer' to ease the pouring
of the next layer of jello.↓
Repeat this process for each layer of jello. Making sure to partially set (slightly thicken) each layer by placing pan in the freezer for about 15 minutes. When last layer is poured, place in refrigerator and allow to set completely for about 4 hours. Once set, cut into squares, or with cookie cutters. (Cookie cutters work best when there are fewer layers).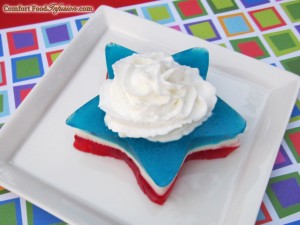 Layered Jello with Yogurt
The white layer uses yogurt. The other layers can be any flavor you like, and as many layers as you like.
Ingredients
Use as many layers of each as you wish
Ingredients for White-Yogurt Layer
1

pkg.

.25 oz unflavored gelatin (such as Knox)

1/4

cup

cold water

1

cup

vanilla yogurt

1/2

cup

boiling water

1/4

cup

boiling water

yes, again
Ingredients for Flavored Jello Layer
2 - 3

oz.

pkgs.

or 1 - 6 oz. pkg any flavor jello

1

pkg.

.25 oz unflavored gelatin

2

cups

boiling water*
For Serving
whipped topping

if desired
Instructions
Directions for White-Yogurt Layer
In a large bowl, sprinkle one package unflavored gelatin over 1/4 cup cold water.

In a separate medium bowl, combine vanilla yogurt and 1/2 cup boiling water. Mix well to blend.

Add 1/4 cup boiling water to the large bowl of gelatin mixture. Mix well to dissolve.

Add the yogurt mixture to the gelatin mixture and stir gently to mix. Set aside, at room temperature, while preparing the other jello layers.
Directions for Flavored Jello Layer
In a large bowl combine 6 oz. flavored jello and 1 package unflavored gelatin. Add 2 cups boiling water*. Stir gently until completely dissolved. Set aside for at least 15 minutes to allow to cool before adding it to layers of partially set jello.
Directions for Layering the Jello
Using non-stick spray, lightly spray the bottom and sides of a 9 x 13 pan. Pour your first layer of flavored jello into pan. Set pan in freezer, (as flat a surface as possible) and let chill for about 15 minutes, or while preparing the next layer of jello.

Next layer may be the white-yogurt layer. Remove pan from freezer and gently pour** the yogurt-gelatin over the previous layer of jello.**

Repeat this for each layer of jello.

When all layers are complete, place in refrigerator to set completely (about 4 hours).

Remove from refrigerator when set and cut with cookie cutters or slice into squares with a sharp knife. Serve.
Notes
Notes:
Split layers in half if you wish: divide each gelatin mixture in half, and each of the layers will be thinner.
*To speed up cooling and set time, use just a couple tablespoons less than 2 cups of boiling water. Once gelatin is completely dissolved, add a few ice cubes-to total 2 cups, stir gently once they melt. It is important that the jello mixture that is being poured onto the prior layer is cooled down enough that it does not melt the prior layer.
**When pouring the next layer, use a large spoon as a 'buffer'- position the spoon close to the prior layer and pour the jello into it, as it will create a gentle water fall and cushion the blow to the soft jello bellow.
Do not freeze the jello for more than 20 minutes at a time. Freezing will ruin the jello if left too long.