Put. The can. Down.
I love Three Bean Salad, but I have always made it with canned beans. I am trying to avoid canned foods whenever possible, but I can't help craving my favorite foods. Why not buy fresh beans? Of course! What a novel idea! Another food I am trying to avoid is refined sugar. Can anyone tell me (comment below) which sugar is supposed to be better for you? Agave or organic cane sugar? I've been using agave with the idea that it is one of the 'healthier' sugars. I am finding information about cane sugar that says it can be a 'healthy' sugar if it is organic and unrefined. Furthermore, cane sugar apparently contains less fructose, which is a good thing…. I think. *scratches head*
Anyhooo, this recipe calls for sugar (I use organic cane sugar). I used a little less than the original recipe, which I learned from my mom, too many years ago to admit. I did add a little more color to this salad in the form of carrots. The carrots also added a little natural sweetness, which is perfect for this recipe. I won't tell anyone if you choose to used canned beans, but I included prep instructions below, for using fresh vegetables. Recipe Below.↓
For best results, soak dry kidney beans in water
over night.↓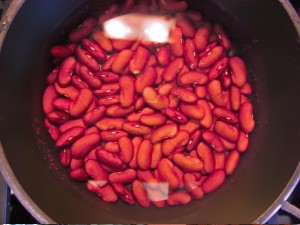 Use fresh beans, from the produce section of the grocery store. I found these at
Trader Joe's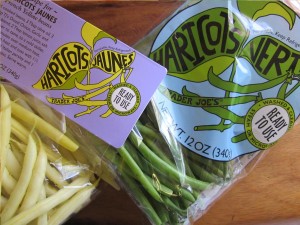 Slice carrots into similar sizes as the green and yellow beans. Add all three to a pot fitted with a steamer basket. (Or boil them in a small amount of water). Steam for about 5 minutes, or until desired tenderness.↓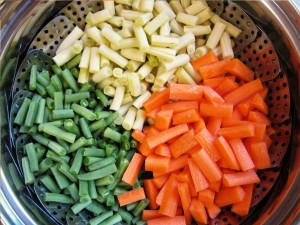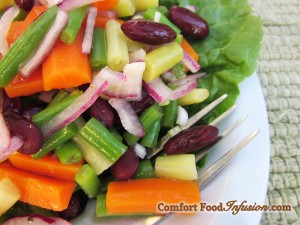 Three Bean Salad with Carrots
A classic bean salad, with colorful fresh ingredients.
Ingredients
Ingredients
1/2

cup

dry kidney beans

soaking in water overnight

1 1/2

cups

fresh green beans

trimmed and chopped

1 1/2

cups

fresh yellow beans

trimmed and chopped

1 1/2

cups

carrots

sliced into comparative sized pieces

1/2

of a red onion

sliced thinly

3/4

cup

apple cider vinegar

1/2

cup

canola oil

1/3

cup

sugar

salt and pepper to taste
Instructions
Directions
Soak dry kidney beans in water overnight.

Next day, drain and rinse kidney beans and add fresh water. Cook kidney beans according to package directions, and cook to desired doneness. When done, transfer beans to a bowl of iced water to stop cooking.

Trim and chop the green and yellow beans. Slice carrots into similar sizes as the beans.

Place carrots and beans in a steamer basket, inside a large pot and fill with one inch of salted water. (You could boil in a small amount of water as well). Once water boils, cook/steam vegetables for about 5 minutes, or until they reach the desired tenderness.

Remove vegetables and place directly into a bowl of iced water to stop cooking.

In a large bowl (the one you plan to serve the salad in), combine oil, apple cider vinegar, sugar and a little salt and pepper. Stir to blend, and let sit so that the sugar can dissolve, while you slice the onions.

Slice 1/2 of a red onion, into thin slices.

In the large bowl with dressing, add the kidney beans, yellow and green beans, carrots, and onions. Stir gently to coat all vegetables.

Place in refrigerator and allow the vegetables to marinate for at least four hours, or even overnight. Gently stir the salad every once in a while, to insure all the vegetables marinate evenly.

Serve.
Notes
If you choose, canned vegetables will work just fine in this recipe as well. One can each: wax beans, green beans, kidney beans, and carrots.