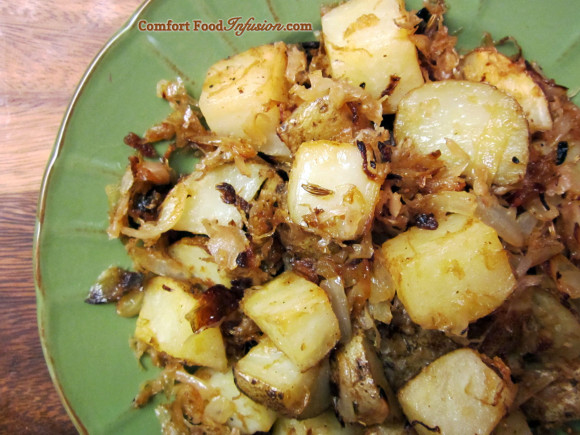 Once again, it seems like an eternity since I have blogged. I don't have really good excuses either…. too busy cooking, cleaning, busing kids to and from whatever. Those reasons don't really hold water though, because I do have time on my hands as of late. The Christmas decorations have been put away, a few junk piles (and junk 'rooms') have been sorted out, but that's as far as the excuses can take me. I suppose I should not be giving myself such a hard time, and simply blog whenever I want (oh right, that's what I'm doing). This isn't my job, though I have dreams that it may segue into 'something' that might bring in a small income. Maybe I'll post more in the near future, maybe less. Maybe I will switch gears and focus on my graphic arts, maybe not. Ugh. This is why I'm having a hard time sitting down to blog, I'm just so wishy-washy. … I'll just get to it then…
This recipe is inspired by a dish that I ate at least 26 years ago… Aaarrrgghh! I feel so old! In my early teens I was eating dinner at a friend's house and this was the side that her mother served. All I remember is that it was potatoes and sauerkraut, and it was browned and caramelized and absolutely delicious. The memory of this dish simply crept from the back of my mind recently, so I Googled for a recipe idea. This is what I concocted, and it is perfect! Possibly better that I remembered, and that simply surprises me. Caraway seeds seemed like the right spice to accent the sauerkraut, but you could use any herbs or spices that you wish… but just a little, it already has a wonderful flavor. Post a comment on how you seasoned yours! 🙂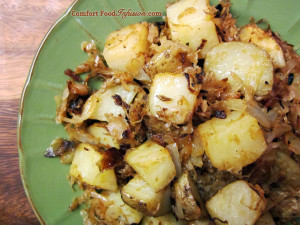 Roasted Potatoes with Sauerkraut
Oven roasted potatoes with sauerkraut, seasoned with onion and caraway seeds.
Ingredients
Ingredients
5

medium russet potatoes

or 2.5 lbs. potato of choice, cubed

1

cup

sauerkraut

squeezed of most of the liquid

1

small onion

sliced thin

2

tsp.

canola or olive oil

3/4

tsp.

seasoned salt

such as Lawry's

1/2

tsp.

caraway seeds

crushed a little (or any herb of choice)

pepper

to taste
Instructions
Directions
Heat oven to 425° F

Cut potatoes into approx. 1 inch cubes.

Using a dish towel or a few paper towels, squeeze as much of the liquid from the sauerkraut as possible.

Thinly slice onions.

Prepare a baking sheet by spraying lightly with non-stick spray. Spread in a single layer on the sheet, the potatoes, sauerkraut and onion. Drizzle oil over all. Sprinkle seasonings over all.

Using your hands, toss the vegetables to coat with oil and seasonings.

Bake in 425° F oven for about 20-30 minutes, stirring every 8 minutes or so to evenly brown.

Serve hot!