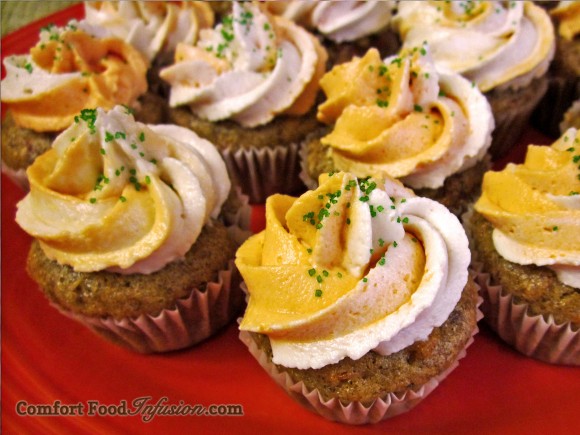 My oldest son's favorite dessert is carrot cake. The first time I made carrot cupcakes was for his second birthday. Twelve years later, I'm still making them for him. He discovered his very favorite version a few years ago at one of his friend's parties. It does not contain nuts, raisins or pineapple, and most kids might agree that little chunks of hard stuff in their cake is not cool. His friend's mother, Nancy, kindly passed on the recipe to me. Turns out, it comes from the "Better Homes and Gardens, New Cook Book" . Because my son is so fond of this recipe, I did not tweak the ingredients at all when I made the cupcakes for his birthday. Although, I did make a second batch and brought it to a school function where there are a number of kids who are gluten, egg, and/or dairy sensitive. The recipe I posted here is the gluten free/vegan version. Furthermore, I have been playing with my gluten free flour mix recipe and swapped out one of the ingredients. Even though I like the flour mixture, I was interested in using something other than corn flour. I used sorghum flour in place of the corn flour this time, and I think I may even like it better this way. I will use my new mixture a few more times to see if it really is my mix of choice. Please leave your feedback in regards to the flour mixture, in the comments section. Some images of prep below. Scroll down for recipe.↓
Shred carrots with a medium size grater.↓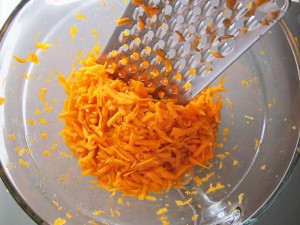 Mix ingredients. Batter will be a bit thick.↓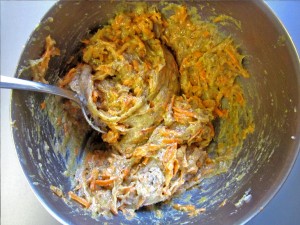 After baking, cupcakes are moist and fluffy.↓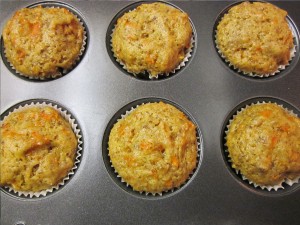 To achieve the two tone icing, fill one side of an icing piping bag with white frosting. Fill the other side of the bag with orange frosting.↓ Squeeze the first inch or so out of the bag, and the remainder should come out half and half. (You can find natural food coloring at health food stores).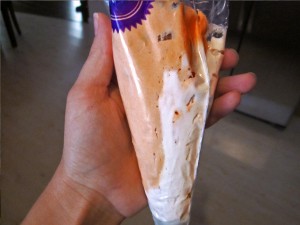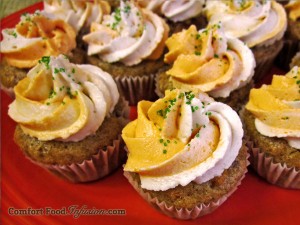 Carrot Cupcakes
A gluten free and vegan version of carrot cupcakes. Does not contain raisins, nuts, or pineapple (though they could be added back in). Could be made with egg and regular wheat flour as well. Makes 20-24 regular size cupcakes, 40-48 mini cupcakes, or two 9 x 1 1/2 inch round cakes.
Ingredients
Ingredients for Cake
3

cups

shredded carrot

about 5 medium carrots

2

cups

*↓gluten free flour mix

or regular flour

1 1/2

cup

sugar

1

tsp.

xanthan gum

if using gluten free flour

1

tsp.

baking powder

1

tsp.

baking soda

1

tsp.

salt

1

tsp.

cinnamon

3/4

cup

vegetable or canola oil

4

Tbsp.

flax meal

mixed with 2/3 cup water** (or 4 eggs for non-vegan)
Ingredients for Frosting
1/2

cup

shortening

1/2

cup

margarine

such as Earth Balance

3 1/2

cups

powdered sugar

1 1/2

teaspoons

vanilla extract

1/4

cup

coconut milk

or other non-dairy
Instructions
Directions for Frosting
With an electric mixer, beat margarine and shortening until fluffy. Add powdered sugar, vanilla and milk, beat again until well mixed and fluffy. Store in refrigerator while preparing cupcakes.
Directions for Cake
Line cupcake tins with liners. (Or grease and lightly flour two round, 9 x 1 1/2 inch baking pans).

Shred carrots with a medium sized grater. Set aside.

Preheat oven to 325° F

In a large bowl, combine flour, sugar, xanthan gum, baking powder, baking soda, salt and cinnamon. Stir well to combine.

Add to the dry mixture, the shredded carrots, oil, flax and water (or eggs). Mix with an electric mixture until thoroughly blended.

Spoon into cupcake tins about 2/3 full (or into round pans).

Bake at 325° F for;

15-20 minutes for mini cupcakes

20-25 minutes for regular cupcakes

30-40 minutes for round cakes

You know they are done when the cake springs back with a light touch of the finger.

Remove from oven and allow to cool to room temperature before frosting.

Store in refrigerator, serve at room temperature.
Notes
*Recipe for Gluten Free Flour Mix:
1/3 cup tapioca starch
1/3 cup sorghum flour
1/3 cup brown rice flour
1/4 cup + 1 Tbsp. potato STARCH
1/4 cup + 1 Tbsp. white rice flour
3 Tbsp. corn STARCH
2 Tbsp. coconut flour
You can make large batches of this, store in a large container and use, cup for cup, in any recipe that calls for regular flour.
**Tips for Flax Meal:
It improves the thickness and texture of the flax meal/water if you microwave it for about 30 seconds or more, or until the mixture is the consistency of eggs. Allow the mixture to cool to room temp. before adding to the batter.
Adapted from "Better Homes and Gardens, New Cook Book" -Via Nancy 🙂