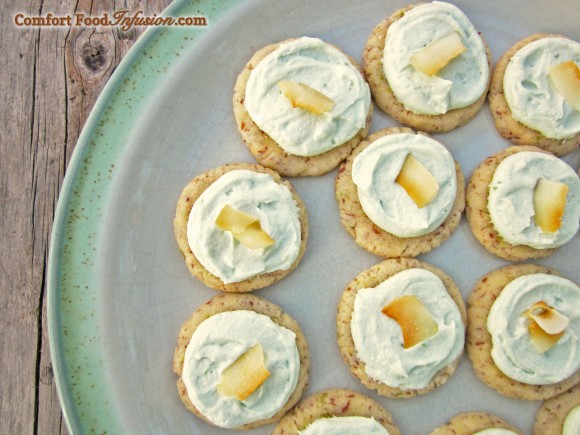 I was very happy with the flavor and texture of the cupcakes muffins I made last Friday, so I decided to try cookies with the coconut flour. These turned out very well also. I considered calling them 'little cakes', because of their soft, fluffy texture, but I stuck with the 'cookies' label. These were made vegan by using flax meal combined with water, in place of eggs. That is why you see the little brown bits of flax. If you use eggs instead, they will be a solid off-white colored cookie.
Images of prep below. Scroll down for recipe.↓
Coconut oil comes in a semi-solid state (like butter or shortening). In some cases (such as this recipe), it calls for it to be melted. It doesn't take a lot of heat to melt. I put it in a small glass bowl and microwaved it for about 12 seconds. It was barely warm, but it had liquified.↓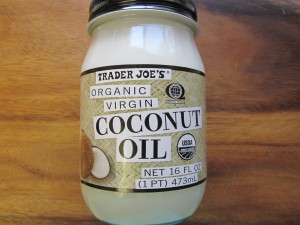 The recipe doesn't use a large amount of coconut flour, but don't let that fool you. It yeilds 24-30 cookies. The flour expands, and becomes fluffy when wet ingredients are added.↓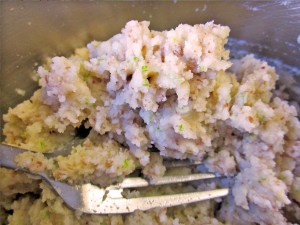 Using your hands, roll into 1 1/2 inch balls. Flatten each of them out so they are about 2 inches or so in diameter.↓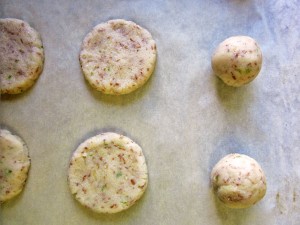 I find it easiest to frost anything using a piping bag (or baggie with a corner cut out). I like the rustic look of the icing spread out
with the back of a spoon though.↓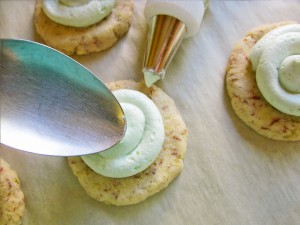 You could leave the cute spirals, or make them look
'manually' frosted.↓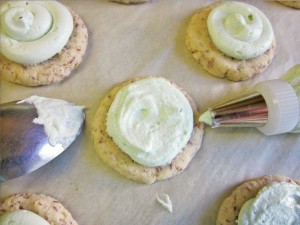 I garnished each cookie with a piece or two of large flake coconut (below), toasted. You could use small flake as well. Be careful when toasting,
it browns super fast.↓
Cool, sweet, soft, delicious…. comforting.
Mmmmm!↓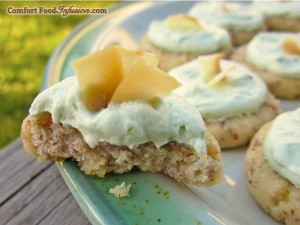 Coconut Lime Cookies
Moist and fluffy cookies made with coconut flour and fresh lime. Topped with lime frosting. Gluten free and vegan!
Ingredients
Ingredients for Cookies
2

Tbsp

flax meal mixed with 6 Tbsp. water

or 2 eggs

1/4

cup

coconut oil – melted

1/3

sugar

I used organic cane

1/2

cup

coconut milk

or milk of choice

1

teaspoon

vanilla

juice and zest of one lime

1/2

cup

coconut flour

sifted

1/4

teaspoon

salt

1/8

tsp.

xanthan gum
Ingredients for Frosting
1/4

cup

shortening

1/4

cup

margarine

I used Earth Balance

1 3/4

cups

powdered sugar

sifted if clumpy

1/8

cup

coconut milk

or milk of choice

zest of one lime

green food coloring

if desired (I used 2 drops)
Instructions
Directions for Frosting
Using electric mixer, beat the shortening, margarine, coconut milk and lime zest until well combined. Add the powdered sugar and beat for about 2 more minutes, or until nice and fluffy. Set aside in a cool place.
Directions for Cookies
In a small bowl, combine flax seed meal and water. Mix, and set aside to thicken.

Microwave 1/4 cup coconut oil in a small bowl for about 12 seconds. Should be a liquid, and just a little warm.

Preheat oven to 350° F

In a large bowl combine, flax meal/water (or eggs), melted coconut oil, sugar, coconut milk, vanilla, and juice and zest of lime. Mix well to blend.

In a separate medium bowl, sift coconut flour. Add salt and xanthan gum. Mix to blend.

Pour flour mixture into large bowl with wet mixture. Stir well. As you stir the mixture will thicken.

Using your hands, form dough into 1 1/2 balls, and place on a parchment lined cookie sheet about 2 inches apart. Flatten each ball into a two inch circle (about 1/2 inch thick).

Bake in a 350° F oven for about 14-18 minutes or until they just begin to lightly brown on the bottom.

Remove from oven, allow to cool to room temperature on cookie sheet.

While cookies are cooling, toast coconut. They only need about a minute. Keep your eye on them, they burn FAST!

Frost each cookie using a piping bag (or baggie with a small hole cut in the corner). You can leave the frosting with a 'piped' look, or spread the frosting with the back of a spoon. Garnish each cookie with toasted coconut.

Serve at room temperature. Store in the refrigerator.
Notes
If not baking vegan, frosting can be made with butter, in place of margarine, and regular milk. Cookies can be made with eggs (in the place of flax meal) and regular milk as well.