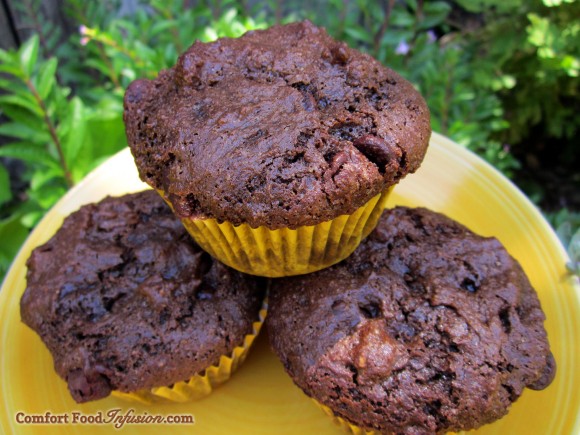 I'm sitting here thinking of a good title for this recipe (chocolate muffins is so boring)…. Chocolate Chocolate Chip Muffins, Devil's Food Cake Muffins, Costco Copycat Chocolate Muffins, Gluten Free Chocolate Muffins, Death By Chocolate Muffins, Heavenly Chocolate Muffins…. OK, I'm getting tired of typing Chocolate Muffins… That is simply what they are, and the title I settled on says what it needs to. I like to emphasize the label, 'muffins'. Muffins typically contain less sugar than cupcakes and they are not normally topped with frosting, as cupcakes are. When you eat these, you may be thinking "these cupcakes are soooo goooood", but don't forget that they are a tiny bit better for you. 😉 I did set out in search of Costco's copycat recipe for their bakery muffins. As with many recipes I research, I come across innumerable recipes, combine them, tinker around with them, and adjust ingredients and flavors to my liking. The end results (If they are successful) end up here. Alas, here is my version of Costco's Chocolate Muffins. I used my gluten free flour mix and they turned out fabulous. Of course, you could use traditional wheat flour and they will be just as great! Scroll down for recipe.↓
Combine wet ingredients in a large mixing bowl. In a separate bowl combine dry ingredients. Mix together.↓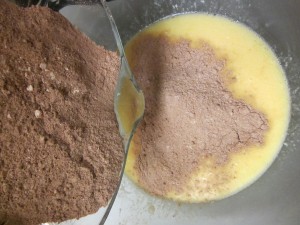 Add chocolate chips and mix until blended well.↓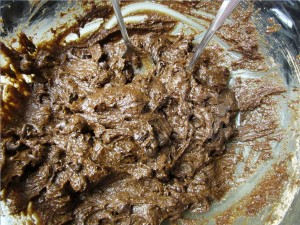 Fill muffin cups. Gluten free flour will yield
a thicker mix than regular flour. (Don't add more liquid)↓ Bake at 375° for 20-25 minutes.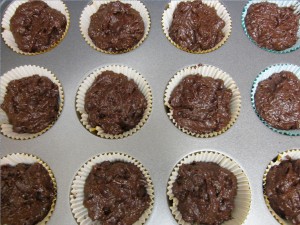 Got strawberries and whipped cream?↓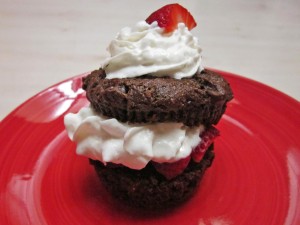 Chocolate Muffins
Costco's copycat recipe, with chocolate chips. Can use regular or gluten free flour. Yields 14 to 16 regular sized muffins.
Ingredients
Ingredients
1/3

cup

milk

1/3

cup

oil

I used canola

1/4

cup

plain yogurt

3

eggs

1 1/2

tsp.

vanilla

2

cups

flour of choice

gluten free recipe below*↓

1 3/4

cup

sugar

3/4

cup

cocoa powder

1 1/2

tsp.

baking soda

1 1/2

tsp.

xanthan gum

if using gluten free flour

3/4

tsp.

baking powder

3/4

tsp.

salt

1 1/2

cups

chocolate chips

I used semi-sweet
Instructions
Directions
Preheat oven to 375°

In a large bowl, combine milk, oil, yogurt, eggs and vanilla. Beat with a whisk until well blended.

In a separate bowl, combine flours, sugar, cocoa powder, baking soda, xanthan gum, baking powder and salt. Stir well to combine.

Pour dry mixture into wet mixture. Stir well to mix. Add chocolate chips, stir again.

Line cupcake tins with paper liners. Fill each about 2/3 or so full.

Bake at 375° F for about 20-25 minutes or until a toothpick inserted in the center of one comes out clean.
Notes
Ingredients for approx. 2 cups gluten free flour:
1/3 cup tapioca starch
1/3 cup sorghum flour
1/3 cup brown rice flour
1/4 cup + 1 Tbsp. potato STARCH
1/4 cup + 1 Tbsp. white rice flour
3 Tbsp. corn STARCH
2 Tbsp. coconut flour
Or make a large batch and store it! - https://comfortfoodinfusion.com/gluten-free-flour-mix Tips for storing and reheating muffins:
Store in an airtight container, at room temperature for a few days, or in refrigerator if storing longer.
To reheat- place muffin on a microwave safe plate, cover with a microwave safe bowl. Microwave for 10-20 seconds, or until desired heat is reached.