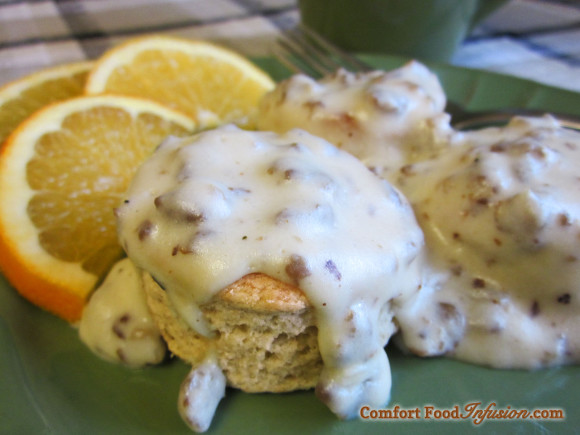 The post prior to this is my homemade fluffy biscuits. Here is the sausage gravy I promised. 🙂  This is not just your standard sausage gravy, it is my dear friend, Bill's sausage gravy. I learned this many years ago at his home, where he often made wonderful meals for his many guests. The secret in his amazing gravy was the use of bacon grease. The fat that renders from the sausage isn't really enough to make a roux, so often times butter is also called for in such a recipe. Many people serve bacon with a large country breakfast, so why not utilize your leftover bacon grease in place of butter? This used to be a norm many, many years ago, but has become a 'lost' practice. We waste way too much of our food in modern meal prep. If you weren't planning on making bacon, reconsider…. How long has it been since you've had a B.L.T.?  😉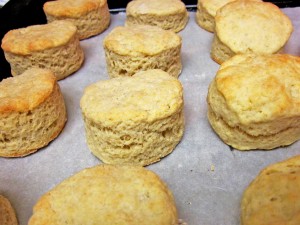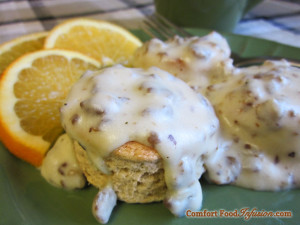 Sausage Gravy
Sausage gravy is perfect served over biscuits. Can be made gluten free.
Ingredients
Ingredients
1/2

lb.

sausage

1/4

cup

bacon grease*

1/4

cup

gluten free or regular flour**

2

cups

milk
Instructions
Directions
In a large saucepan over medium-high heat, brown sausage. Crumble the sausage the best you can so that you have small bits.

Add bacon grease to total about 1/4 cup cooking fat.

Add flour, stir and cook over medium heat for about three minutes.

Slowly add, while whisking, the 2 cups milk. Continue to cook for about five more minutes or until thickened to desired consistency.

You can add more milk to thin. If you want it thicker, add a teaspoon of cornstarch to a little bit of cold milk, stir well, and then add to the gravy.

Serve over warm biscuits.
Notes
Fluffy biscuit recipe.
*If you don't have 1/4 cup bacon grease, substitute some or all with butter. If your sausage renders a lot of grease, don't use as much bacon grease or butter.
**My gluten free all purpose flour can be found here... Gluten-Free Flour Mix
Adapted from from my dear friend, Bill