Do you need ideas for a side dish or appetizer to serve for Mother's Day? Here is a fresh idea on a popular recipe. The parmesan in these zucchini bites is actually not cheese at all. It is chopped cashews. You may have seen my post a few weeks ago for 'Free' Fettuccine Alfredo (gluten free and animal free), which also used cashews in place of traditional milk ingredients. These dishes truly do have a great cheesy flavor, which comes, in part, from nutritional yeast. Commonly nicknamed "nooch", nutritional yeast can be found in health food stores. I have even found it at Win-Co, and they sell it in bulk bins, which is great, because I only need to buy a little at a time. Please don't let the non-traditional ingredients scare you… these really do taste fabulous. If you are still hesitant, you could simply substitute the main ingredients for freshly grated Parmesan cheese. Either way, they taste great and will be a perfect addition to your meal.
Prepare work area with sliced zucchini, olive oil,
and cashew 'parmesan' mixture.↓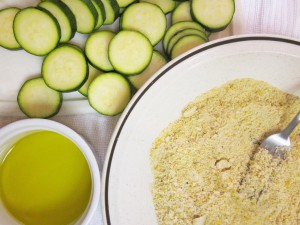 Line a cookie sheet with tin foil and lightly spray with non-stick spray. Arrange coated zucchini on sheet and bake at
400° for 22-28 minutes.↓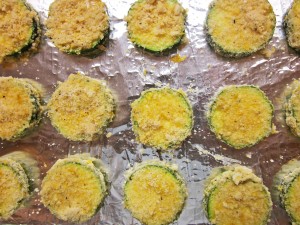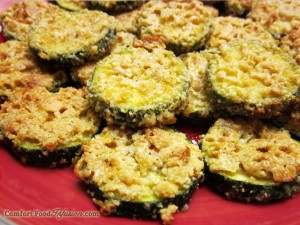 Vegan Zucchini 'Parmesan' Bites
A fresh twist on a favorite side dish. Uses cashews in place of parmesan.
Ingredients
Ingredients
2

medium zucchinis

sliced

1

cup

raw cashews

1

Tbsp.

nutritional yeast

1/2

tsp.

salt

1/4 - 1/2

tsp.

garlic powder

1/4

tsp.

mustard powder

1/4

cup

olive oil
Instructions
Directions
Slice zucchini and set aside.

In a food processor or coffee grinder, blend cashews. Do not over process. Leave small bits of cashews for texture.

Preheat oven to 400° F.

Place blended cashews into a large, shallow bowl. Add to the cashews, nutritional yeast, salt, garlic powder, and mustard powder. Stir well to combine.

In a small bowl, pour olive oil. One at a time, dip a zucchini slice in olive oil and let excess drip off. Place zucchini in cashew mixture, coating both sides of the zucchini.

Arrange all zucchini in a single layer on a cookie sheet lined with tin foil, and sprayed lightly with non-stick spray.

Bake at 400° F for about 22 to 28 minutes or until golden brown.

Serve hot or at room temperature.